My Little Pony, Vol. 1: Big Horseshoes to Fill (Paperback)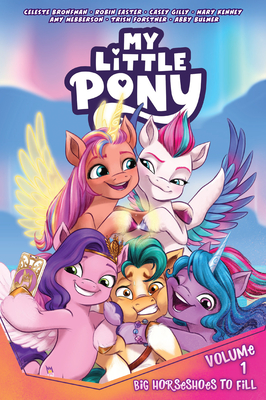 $9.99

Coming Soon - Available for Pre-Order Now
Description
---
An exciting new adventure begins! Join the Mane Five as they explore a brand-new Equestria following the magical events of the hit Netflix movie!

With magic returned to Equestria, the ponies are more united than ever—at least, until one of the Unity Crystals is stolen! Can Sunny, Izzy, Zipp, Pipp, and Hitch—plus trusty sidekick Cloudpuff—find the culprit before magic is gone for good? And where's Cloudpuff leading them, anyway? Is this...Canterlot?!

Explore a new generation of magic and friendship, from writers Celeste Bronfman, Robin Easter, Casey Gilly, and Mary Kenney, with art by Amy Mebberson, Trish Forstner, and Abby Bulmer! Collects My Little Pony #1-5.
About the Author
---
Celeste Bronfman is an award winning, Los Angeles-based writer whose recent credits include the Emmy-award winning series Degrassi and Discovery Kids' Big Top Academy. In addition to her television work, Celeste is a comic book writer who has written for titles such as Star Trek, My Little Pony, and The Rivers of London.


Mary Kenney is a writer of video games, comics, a YA nonfiction novel, and way too many tweets. An Advanced Writer at Insomniac Games, she also teaches narrative design at Indiana University. A graduate of the NYU Tisch School of the Arts, her journalsim has appeared in The New York Times, Salon, Kotaku, The Tampa Bay Times, and The San Diego Union-Tribune. She's lived in Chicago, NYC, the San Francisco Bay area, Los Angeles, and Hyderabad, India.