Adventure Time/Regular Show (Paperback)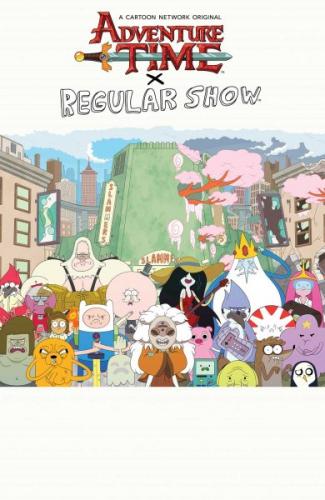 Description
---
Finn and Jake find themselves traveling across different worlds in search of The Power -- turns out that Mordecai and Rigby might be able to help out...or make things worse.

It's a crossover for the ages in this mash-up of two of our favorite Cartoon Network shows! When a powerful new villain threatens to conquer Adventure Time's Ooo, Princess Bubblegum sends Finn and Jake on a desperate quest to find The Power that can save the land—a power that Skips from Regular Show just happens to be hiding! Finn and Jake's arrival only exacerbates an existing tension between Mordecai and Rigby, and the trip back to Ooo threatens to tear two sets of bros apart…forever.
About the Author
---
Conor McCreery is a former journalist turned comics scribe. After receiving ONE too many death threat, he decided to move into the world of comics - and has worked for many of the industry's top publishers including DC, IDW, BOOM!, Titan, and Dark Horse. He writes about sensitive boys and kick-ass girls, although not always in that order.