How to be Filled with the Holy Spirit (Hardcover)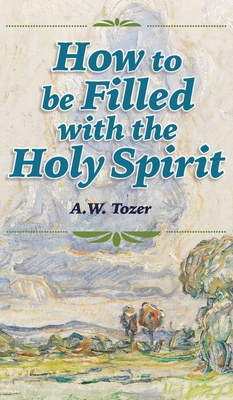 $17.98

Not Available In-Store - Usually Ships from Warehouse in 1-5 Days
Description
---
How to Be Filled with the Holy Spirit, first published in 1952, is a collection of four sermons by preacher and writer A.W. Tozer. The series explains the Christian relationship to the Holy Spirit-who He is, and how to receive Him.
A.W. Tozer (1897-1963) was a self-educated pastor, writer, and mentor. He spent his career preaching and educating with the Christian and Missionary Alliance. He wrote for the group's magazine Alliance Weekly, as well as for other publications like Christian Life.
Tozer's fundamentalism was built on a foundation of prayer, which he advocated to his congregants. He prayed for several hours each day, building his personal relationship with God.
How to Be Filled with the Holy Spirit provides a deep exploration of the third-and least understood-part of the Holy Trinity.
The first sermon, titled Who is the Holy Spirit, begins with an explanation of who exactly He is. For He is a Person, although one that is not made of physical matter. "He is a Person..." Tozer writes, "with all the qualities and powers of personality. He is not matter, but He is substance."
As a spirit, He can penetrate physical matter. He can be all around us and within us, if we are ready to receive Him. Tozer writes, "He has not weight, nor measure, nor size, nor any color, no extension in space, but He nevertheless exists as surely as you exist."
But who is He exactly? Using proof from scripture, creeds, and hymns, he shows that the Holy Spirit is no more and no less than God the Creator Himself. Placed on equal footing with the Father and the Son in scripture, the third corner of that triangle must be equally divine.
In the second sermon, The Promise of the Father, Tozer explains how the Holy Spirit came to us here on Earth. The arrival of the Holy Spirit is the realization of God the Father's promise to us. The Holy Spirit is God's gift, sent back after Christ's resurrection and ascension. Upon His arrival, He filled the followers of Jesus Christ. And He is still here, ready to fill those of us who are prepared and ask to be filled.
The next sermon, How to be Filled with the Holy Spirit, asks vital questions. Are you sure you want to be filled with the Spirit? Tozer asks, "Do you want Him to be Lord of your life? That you want His benefits, I know ... But do you want to be possessed by Him? ... Are you sure that you want your personality to be taken over by One who will expect obedience to the written and living Word?"
After all, to be filled with the Holy Spirit means you must live your life in and for Christ. You must reject the worldliness in which you have been raised. You may not tolerate evil, turning a blind eye to anything that would displease God. To get closer to God, you must get further away from the world.
The final sermon explains How to Cultivate the Spirit's Companionship. For those who are fully committed, they must treat the Holy Spirit as a living Person and honor the Lord Jesus Christ. "As we honor Jesus," he says, "the Spirit of God becomes glad within us. He ceases to hold back, He relaxes and becomes intimate and communes and imparts Himself; and the sun comes up and heaven comes near as Jesus Christ becomes our all in all."
In the preface to this collection, Tozer apologizes for the "racy style" in these sermons, stating that "Had he] been writing the messages, he] would have taken greater care in the composition." But in fact, it is this casual style that makes the sermons so effective. The reader can imagine sitting with a trusted spiritual mentor, receiving life-changing personal advice from someone who has themselves been filled with the Holy Spirit.