Halloween Coloring Book for Adults: A Coloring Book with Halloween Scenes for Relieving Stress and Encouraging Relaxation (Paperback)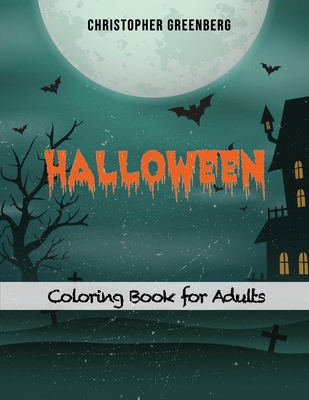 $5.99
Email or call for price.
Description
---
Calm Down, Relieve Your Stress, Improve Your Focus And Slow Down Your Hyperactive Mind As You Create Beautiful Frame Worthy Spooky Halloween Themed Masterpieces With This Coloring Book
It sounds weirdly creepy that anybody would use a book filled with all manner of spooky images of ghosts, graveyards, haunted houses, jack-o'-lanterns, bats, pumpkins, witches, spider webs and more to calm down, relief stress, enhance your focus, improve your creativity and imagination and much more.
It sounds creepy but it works like a charm
I'll be honest though; all forms of coloring can bring these benefits.
But if you have a unique liking for frightful stuff or just want to have some coloring fun during the Halloween season, that's where this book comes in
Whether you want to create a frame worthy spooky masterpiece that you can put in your scary room or anywhere else in your house or office, this coloring book will help you to achieve that, irrespective of your skills level, as the designs range from beginner friendly to expert level
That's not all; the book features:
Beautiful, unique, out of this world artwork and designs to set the stage for you to make frame worthy masterpieces
Single-sided pages to ensure you don't have to worry about bleed through problems and to enable you to frame whichever images you want to frame for easy display of your works of art

High-resolution printing and quality paper to ensure clear, crisp sharp designs that will not be a problem for you while coloring so as to put you squarely on the path to making frame-worthy masterpieces
A wide variety of professionally done designs that you can work with, all gleaming with the promise of fun and high level spookiness
And much more
So grab your coloring pencils and dive into the this fun and creepy collection of out of this world, one of a kind, Halloween designs that will fuel your creativity, melt away your worries, have Tibetan monk like focus and much more
This Halloween themed adult coloring book will certainly relax and delight you, as you focus on coloring and release your imagination to take over
Don't wait...
It's
time to let the bats, witches, vampires, ghosts, zombies, spiders, owls and all spooky Halloween stuff out
Click
Buy Now
to
get a copy for yourself
or
give one as a Halloween gift