Creatures of Passage (MP3 CD)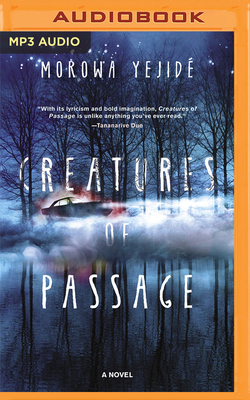 $24.99

Special Order - Subject to Availability
Description
---
Longlisted for the 2022 Women's Prize for Fiction
With echoes of Toni Morrison's Beloved, Yejid 's novel explores a forgotten quadrant of Washington, DC, and the ghosts that haunt it.
"Yejid 's surreal new novel has no shortage of otherworldly surprises, but it's her this-worldly protagonist who steals the show...Informed by a richly woven mythology and propelled by themes of regret and revenge, Creatures of Passage has earned some apt comparisons to Toni Morrison's Beloved."
--Philadelphia Inquirer, One of the Best Books of Winter 2021
"Hauntingly magical, this sophomore novel by Morowa Yejid centers a young woman dealing with the loss of her brother, her young great-nephew who mysteriously shows up at her door and Washington, DC, the city that provides an otherworldly backdrop to this imaginative thriller."
--Ms. Magazine, A Most Anticipated Book of 2021
"A deeper, broader, and more audacious immersion in magical realism...Historic detail and mythic folklore forge a scary, thrilling vision of life along America's margins."
--Kirkus Reviews, STARRED Review
"Skillfully blending fantasy and stark reality while blurring the line between the metaphoric and the tangible, Yejidé successfully tells the story in fits and starts as each major character adds a piece to the puzzle...Highly recommended."
--Library Journal, STARRED Review
"Yejid creates a tapestry of interconnected stories of guilt, loss, love, grief, justice, and restoration...Yejid 's prose is often stunning...The story's rich texture evokes the ghost stories of Toni Morrison."
--Publishers Weekly
"Fatal racism, police violence, pedophilia, family dysfunction--all the horrific ills of contemporary society wreak destruction, but somehow humanity survives."
--Booklist
"In this beautifully written and gloriously conceived novel, Morowa Yejid reveals her mastery yet again. This book is both contemporary and ancient, frightening and stirring, playful and wise, an unforgettable blurring of reality and genres from its haunted Plymouth automobile to the mysteries in the fog in this alternate America and hidden Washington, DC. With its lyricism and bold imagination, Creatures of Passage is unlike anything you've ever read."
--Tananarive Due, author of Ghost Summer: Stories
Nephthys Kinwell is a taxi driver of sorts in Washington, DC, ferrying passengers in a 1967 Plymouth Belvedere with a ghost in the trunk. Endless rides and alcohol help her manage her grief over the death of her twin brother, Osiris, who was murdered and dumped in the Anacostia River.
Unknown to Nephthys when the novel opens in 1977, her estranged great-nephew, ten-year-old Dash, is finding himself drawn to the banks of that very same river. It is there that Dash--reeling from having witnessed an act of molestation at his school, but still questioning what and who he saw--has charmed conversations with a mysterious figure he calls the "River Man."
When Dash arrives unexpectedly at Nephthys's door bearing a cryptic note about his unusual conversations with the River Man, Nephthys must face what frightens her most.
Morowa Yejid 's deeply captivating novel shows us an unseen Washington filled with otherworldly landscapes, flawed super-humans, and reluctant ghosts, and brings together a community intent on saving one young boy in order to reclaim itself.