War on the Gods Books 1 and 2: Limited Edition Boxset (Paperback)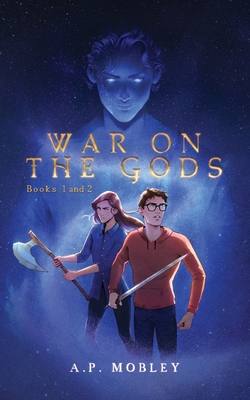 $19.99

Not Available In-Store - Usually Ships from Warehouse in 1-5 Days
Description
---
Andy and Zoey are two normal teenagers living in the modern day--that is, until they're knocked unconscious in a freak storm sweeping the United States.
When they wake up, the world they know has been tossed away. Their city is in ruins, strange creatures walk the earth, and worst of all, everyone is gone. They stumble across Diana and Spencer, two kids around their age who possess incredible magical abilities, and who claim to be the demigod children of Greek gods. Not only that, they also claim the year is 500 AS, five hundred years after the gods conjured a massive storm that destroyed most of humanity and helped them take the world as their own once again.
With the help of Diana and Spencer, Andy and Zoey soon discover they're destined to play an important role in saving humanity. In fact, there's a whole prophecy that says they're meant to lead a war on the gods--which Zeus has been trying to prevent for centuries, apparently. But how can anyone expect two regular teens to defeat an entire pantheon of immortal deities?
Find out how Andy and Zoey's insurmountable task unfolds in books 1 and 2 of the fast-paced trilogy that readers are calling intense, emotional, and action-packed.