Good Night Stories for Rebel Girls: The Chapter Book Collection (Rebel Girls Chapter Books) (Boxed Set)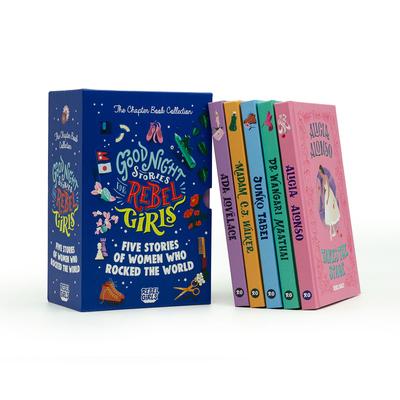 $49.99

Special Order - Subject to Availability
Description
---


"With this powerful, hope-filled story of overcoming one's obstacles, readers will close this book and feel inspired to leave a legacy of their own" ― School Library Journal

The creators of the New York Time's bestselling Good Night Stories for Rebel Girls series writes an irresistible collection of chapter books about the real lives of five extraordinary women throughout history.

This hardcover boxed set includes:
Ada Lovelace Cracks the Code
Madam C. J. Walker Builds a Business
Wangari Maathai Plants a Forest
Junko Tabei Masters the Mountains
Alicia Alonso Takes the Stage

This gorgeous boxed set is the perfect gift to inspire any young reader. It contains five individual, historical fiction chapter books, each exploring the life and times of an extraordinary woman in global history, as she overcomes challenges to pursue her boldest dream.

Readers will meet Ada Lovelace—a nineteenth-century pioneer in computer science; Madam C. J. Walker—an early leader in the African American beauty industry; Dr. Wangari Maathai—an environmental warrior and Nobel Peace Prize winner from Kenya; Junko Tabei—a champion in mountaineering who became the first woman to summit Mount Everest; and Alicia Alonso—a prima ballerina and remarkable creator in the world of dance.

Each stunningly designed chapter book features at least ten full-color illustrations from a female artist, as well as bonus activities in the backmatter to encourage kids to explore the various fields in which each of these women thrived.
About the Author
---
REBEL GIRLS is a global, multi-platform empowerment brand dedicated to helping raise the most inspired and confident generation of girls through content, experiences, products, and community. Originating from an international best-selling children's book, Rebel Girls amplifies stories of real-life women throughout history, geography, and field of excellence. With a growing community of nearly 20 million self-identified Rebel Girls spanning more than 100 countries, the brand engages with Generation Alpha through its book series, award-winning podcast, events, and merchandise. With the 2021 launch of the Rebel Girls app, the company has created a flagship destination for girls to explore a wondrous world filled with inspiring true stories of extraordinary women.
Praise For…
---
"This fabulous boxed set takes young readers into the lives of five remarkable women whose stories make for thoroughly engrossing reading."
— Tillywig Toy & Media Awards

"These books are empowering, educational and a great gift for a young reader."
— National Parenting Product Awards

"With this powerful, hope-filled story of overcoming one's obstacles, readers will close this book and feel inspired to leave a legacy of their own"
— School Library Journal

"An inspiring story for any young girl waiting to make her mark on society."
— Kirkus Reviews

"Filled with examples of creativity sparked by small observations, this detailed look at the earliest days of modern computing is engaging, informative, and inspiring."
— Common Sense Media

"Rooted in fact, this lightly fictionalized account gives readers an opportunity to connect with Breedlove as a storied individual whose entrepreneurial prowess and support of black women continues to impact people today."
— Publishers Weekly

"In this detailed, remarkable book filled with both inspiration and sadness, young readers will see the motivation behind Sarah's outstanding achievement...The knowledge that her life wasn't easy makes Sarah's success that much sweeter for readers to enjoy."
— Common Sense Media