I Am an Animal / Soy un animal: (Bilingual Board Books for Babies) (Board book)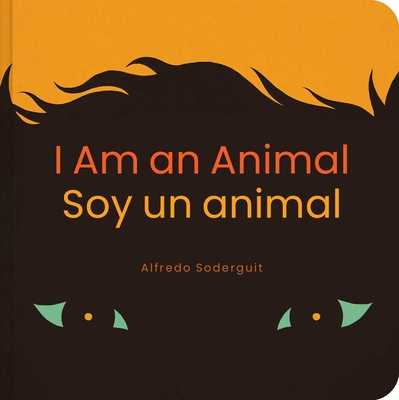 Description
---
"Delves into the commonalities we share with our co-inhabitants on this great planet." —Kirkus Reviews

"Soderguit's work makes adept use of illustration and design elements to convey meaning, truly honoring the picture book form." —Publishers Weekly

A bilingual board book for little ones to explore the wonderful world of animals and discover an unexpected and surprising facet of themselves.

"Las obras de Soderguit manifiestan un gran dominio de los elementos de la ilustración y el diseño para transmitir un significado, honrando verdaderamente la forma del libro ilustrado". —Publishers Weekly

"Profundiza las semejanzas que compartimos con nuestros cohabitantes en este gran planeta." --Kirkus Reviews

Un libro de tablero bilingüe para que los más pequeños exploren el maravilloso mundo de los animales y descubran una faceta inesperada y sorprendente de sí mismos.

From the award-winning author and illustrator of The Capybaras comes a perfect gift for little ones eager to learn a new language. Featuring a series of sixteen two-tone animal illustrations, I Am an Animal/ Soy un animal humorously and expressively enhances routine actions and attitudes like eating, laughing, playing, singing, … and even dreaming and forgetting.

Del galardonado autor e ilustrador de Los carpinchos llega un regalo perfecto para pequeños ansiosos por aprender un nuevo idioma. Acompañado por una serie de dieciséis ilustraciones de animales en dos tonos, I Am an Animal/ Soy un animal realza con humor y expresividad acciones y actitudes rutinarias como comer, reír, jugar, cantar... e incluso soñar y olvidar.
About the Author
---
Alfredo Soderguit is an award-winning author and illustrator with more than forty books published throughout Latin America, Spain, France, and Italy. His work has been selected for the Bratislava Biennale, the Bologna Book Fair Illustrator's Exhibition, and the Children's Literature Illustration Award of Uruguay. His 2020 children's book, Los carpinchos, appeared in the New York Public Library Best Books of 2020 and the White Ravens list. He is the director of the prize-winning animated film, Anina. Originally from Rocha, Uruguay, he currently lives in Montevideo.
Praise For…
---
"Delves into the commonalities we share with our co-inhabitants on this great planet."


— Kirkus Reviews

"Soderguit's work makes adept use of illustration and design elements to convey meaning, truly honoring the picture book form."
— Publishers Weekly