The Winning Ingredient (Paperback)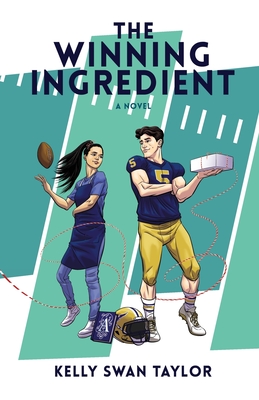 $16.99

Not Available In-Store - Usually Ships from Warehouse in 1-5 Days
Description
---
As the past and the present collide, one baker and one quarterback team up. The two might be the winning ingredient in a timeless recipe.
**Hardcover edition includes BONUS recipe content**
Mia DeSalvo is one tough cookie, who can throw a perfect spiral and bake perfect biscotti. But, as George Washington High's top student and ninth-grade class president, she's thrown off her game when asked to tutor boarding school drop-out and secret-weapon-on-the-football-field, Bryce Fitzgerald. Despite his to-die-for dimples, he's a total bore. Besides, her plate is already full, trying to save her family's struggling century-old Italian bakery.
Determined to tackle her family's business woes, Mia secretly devotes her free time to developing new recipes, with the help of her Sicilian great-great-grandmother's handwritten cookbook. She soon discovers that blending her own innovations with her Nonna Antoinette's history may be the key to the bakery's success.
But Mia's not the only one with a secret. As rumors swirl around Bryce's lightning-speed exit from prestigious Chadwick Academy, she's resolved to get to the bottom of it. Unfortunately, the star quarterback's bad attitude, mixed with her flaming temper, is a recipe for disaster.
When Mia stumbles upon Bryce's beautifully written journal, it's clear his talents aren't confined to the football field, and there's much more to the hazel-eyed quarterback than she could've imagined. While the journal may hold all the answers she's looking for, the weight of its heartbreaking words may be too much for her to carry.
With the future of the DeSalvo Bakery and the football State Championship hanging in the balance, Mia and Bryce might just have what the other is missing.
Armed with an antique cookbook and a football, this unlikely pair will discover the importance of embracing an enduring legacy and keeping cherished memories alive.
The Winning Ingredient is a lower young adult novel about unwavering friendship through loss and triumph and is the debut novel for this previously published author.