Signs of Cupidity (Hardcover)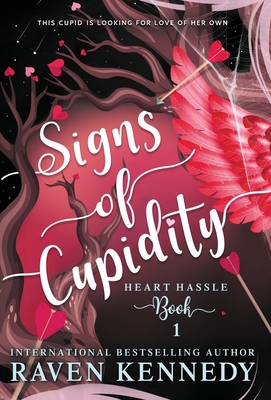 $19.99

Not Available In-Store - Usually Ships from Warehouse in 1-5 Days
Description
---
I'm going to find my own true love even if it kills me.
You'd think being in charge of love would be an epic job, right?
Wrong.
Sure, I'm a cupid, so I can blow Lust into people's faces and watch the show, but I can't actually participate. It gets old, trust me. Same goes for love. I can pass it out like sugar-free lollipops at a dentist's office, but I can't get any for myself.
I'm stuck in this never-ending afterlife where I'm invisible, lonely, and bitter. And yeah, I'm probably responsible for some terrible matchmaking out there. But can you blame a girl?
Apparently, my cupid bosses can, because I get exiled to the fae world. And while I'm here, I accidentally attack a fae prince with Love Arrows. But hey, he deserved it.
What I didn't expect was for him to retaliate, and that I'd be pushed into the physical realm.
That's right. This cupid just got a real body. And you know what that means. Now, it's my turn to get some.
Love, I mean. Wink, wink.
Author's Note: This is a slow-burn why choose fae-fantasy romcom, where the FMC will end up with multiple mates. It includes explicit language and sexual situations. Intended for audiences 18 years and older. This series is complete.