The Making of Australia (Paperback)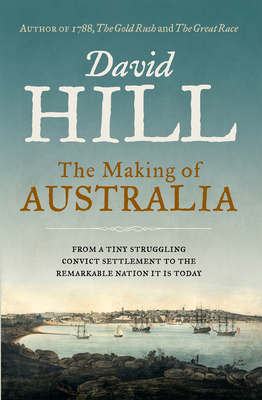 $19.95

Special Order - Subject to Availability
Description
---
The story of how a struggling convict settlement grew into six dynamic colonies and then the remarkable nation of Australia, told through the key figures who helped build it into the thriving nation it is today

Tracing the story of the Australian nation from its European beginnings, this book is history at its most entertaining and accessible. When James Cook landed on the east coast of Australia, the rest of the world had some idea of how empty, vast, and wild the continent was, but so little was known of it that in 1788 most people thought it was two lands. In the subsequent years, its coastline was charted, its interior opened up, and its cities, laws, and economy developed. In this riveting, wide-ranging history, David Hill traces how this happened through the key figures who built this country into the thriving nation it is today: from its prescient and fair-minded first governor, Arthur Phillip, to the unpopular William Bligh, the victim of the country's first and only military coup; from the visionary builder and law-maker Lachlan Macquarie to William Wentworth, the son of a convict who secured Australia's first elected parliament; from Henry Parkes, the grand old man of politics who started the fraught process of Federation, to the first prime minister, Edmund Barton. It was Barton who formed the first Australian government just in time for the inaugural celebrations on January 1, 1900, when the nation of Australia was born.
About the Author
---
David Hill has been chairman and managing director of the Australian Broadcasting Corporation; chairman of the Australian Football Association; chief executive and director of the State Rail Authority; chairman of Sydney Water Corporation; a fellow of the Sydney University Senate; and chairman of CREATE (an organization representing Australian children in institutional care). He is the author of 788 and The Gold Rush.