The Miller's Daughter: Unusual Flours & Heritage Grains: Stories and Recipes from Hayden Flour Mills (Hardcover)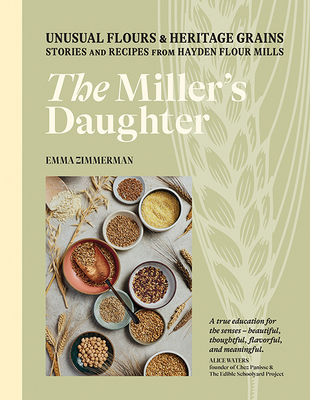 Description
---
The Miller's Daughter is a cookbook at the forefront of America's heritage grain movement with 80 glorious recipes and beautiful, candid stories that celebrate community, agriculture, sustainability, and the place of grains at every table.

Emma Zimmerman with her father, Jeff, is a rebel and a dreamer on the outskirts of rural Phoenix. In a country overrun by corporate, homogenized grain farming, the daughter-father team are champions of rare and near-extinct varieties of ancient grains. The rejuvenation of their business, Arizona's Hayden Flour Mills, is an unlikely tale of an underdog rising from the Wild West.

In The Miller's Daughter, Emma shares her stories of entrepreneurship and personal growth alongside stunning documentary photography. Her insights show readers how grains can and should be used to elevate our meals every day.

Organized by grain (from farro to white sonora to red fife to corn, barley, durum and rye), Emma's collection of recipes covers breakfast, sweet, savory and mains within each chapter. Think recipes for chickpea cookies, pink polenta with crispy pancetta, sprouted barley salad, farro crust tart, white sonora berry salad – and much more.

This is the true and captivating story of a mill restarted, of near-extinct grains rescued, and a whole host of nourishing dishes created and enjoyed along the way.
About the Author
---
Emma Zimmerman co-founded Hayden Flour Mills in Arizona, USA with her father Jeff Zimmerman in 2011. The family business is devoted to making the freshest and tastiest flours from some of the world's oldest varieties of wheat. Today, Hayden Flour Mills grows multiple different heritage and ancient grains. The grains are milled into heritage baking mixes, stoneground polenta, pasta flour, pizza flour and artisan bread flour. Hayden Flour Mills' products have a loyal following and are available in 500+ retail stores including Whole Foods Markets and Eataly. Their flours have also been featured in Martha Stewart Living, Eating Well, Saveur, Bon Appetit, and Marie Claire.

Emma was also named by Marie Claire as one of "Six Women Who Make Going Big in the Food World Look Like a Piece of Cake".
Praise For…
---
"The Miller's Daughter is a back-to-the-future kind of cookbook. The recipes are enticingly modern, but highlight heritage grains so they are both ancient and modern at the same time." - Sharon Salomon, Edible Phoenix?

"Emma Zimmerman truly understands what it means to engage food as the means of healing our bodies, our communities, and our earth. These pages open a door to follow in her footsteps. A true education for the senses – beautiful, thoughtful, flavorful, and meaningful." – Alice Waters, founder of Chez Panisse The Edible Schoolyard Project

"Bioengineer turned miller-farmer-baker Emma Zimmerman renounces the dominion of all?purpose white flour. And in the same breath, she makes brilliant connections between flavor, farming and the fight against climate change through a class of diverse, remarkable grains." – Dan Barber, chef author

"Emma has beautifully captured the Hayden Flour Mills journey, and what life is all about: family, food, friendship, community and connection."- Chris Bianco, James Beard Award–winning chef, Pizzeria Bianco

"I was thrilled to learn more about the unique, alternative flours and grains highlighted in Emma Zimmerman's new cookbook, The Miller's Daughter. As is true for many of the best cookbooks, its pages contain more than inspiring recipes and insights on food alone." - Isabelle Eyman, Camille Styles

"Emma Zimmerman demonstrates how we can enjoy classic, traditional recipes using a diverse range of heritage flours and grains for enhanced flavour and nutrition. This is a must-add to your collection, telling the story of a family business that grows and mills with care for the planet. You'll discover recipes from barley flatbread and einkorn waffles to chocolate polenta cake and toasted oatmeal pies, complete with stunning images to help guide you. I want to try everything in this book!" – Michael James, baker author?

"It is a dreamy cookbook that goes far beyond baking." - Jenny Hartin, Eat Your Books

"The Miller's Daughter is a wonderful primer for understanding how the heritage grain movement is tied to sustainability and community." - Shipshape Eatworthy

"If you love baking and cooking with unusual flours, whole grains, and the like as much as I do, I suspect you'll love this book." - Heidi Swanson, 101 Cookbooks

"Zimmerman inspires us to diversify our pantries — for the benefit of the planet and our palates." - Susan Puckett, The Atlanta Journal-Constitution

"The personalized, almost memoirish account gives the book a nice feel. It's about sustainability and respect for agriculture – along with some tasty grain-based recipes." - Marc Bona, cleveland.com