Beautiful Darkness (Hardcover)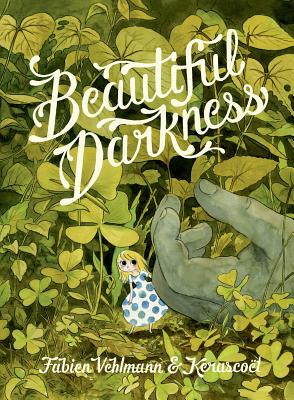 $22.95
Not Available In-Store - Usually Ships from Warehouse in 1-5 Days
Staff Reviews
---
I picked up Beautiful Darkness expecting something entirely different from what its cover contained. Drawn in by the gorgeous watercolor illustrations by the husband and wife team, Kerascoet, I believed this would be a fairly typical fantasy story. Boy, was I wrong. Only a couple pages in we are dragged into a grotesque and cruel world ruled by insincerity and casual disregard for life. While the images remain dreamy and lighthearted, the story only ever gets darker. It's obvious that Vehlmann is a bit of a cynic, but I get the sense that his goal is to remind us that we don't have to be like the characters in his book. Suggestion, don't read until you are yourself feeling optimistic.
—
HEATHER'S STAFF PICKS
Description
---
BEST OF THE YEAR NODS FROM AMAZON.COM AND PUBLISHERS WEEKLY!
"Kerascoët… render Aurora and her friends in the huge-eyed style of classic children's book illustrations, but cuteness is just another Darwinian survival strategy here. Even on her clover-high scale, as Aurora discovers, romance is decided by social pecking order and murderous deceit."—Douglas Wolk, New York Times
Kerascoët's and Fabien Vehlmann's unsettling and gorgeous anti-fairy tale is a searing condemnation of our vast capacity for evil writ tiny. Join princess Aurora and her friends as they journey to civilization's heart of darkness in a bleak allegory about surviving the human experience. The sweet faces and bright leaves of Kerascoët's delicate watercolors serve to highlight the evil that dwells beneath Vehlmann's story as pettiness, greed, and jealousy take over. Beautiful Darkness is a harrowing look behind the routine politeness and meaningless kindness of civilized society.
About the Author
---
Fabien Vehlmann is a French comics writer who has been nominated for the Angoulême International Comics Festival Award a number of times. He is best known to North American audiences for his collaboration with the Norwegian cartoonist Jason on Isle of 100,000 Graves.
Kerascoët is a husband-and-wife cartooning team best known for illustrating the book Miss Don't Touch Me written by Hubert, as well as a couple of the Lewis Trondheim Dungeon books.
Praise For…
---
"A twisted tale that draws from the likes of Alice in Wonderland and The Borrowers, only Beautiful Darkness presents a much bleaker allegory about brutality. As the tiny people lose hope, their underlying pettiness, greed and jealousy become evident despite their polite words and pretty faces." —Los Angeles Times Hero Complex
"This unforgettable graphic novel hovers on the edge of your daydreams and nightmares." —Publishers Weekly Starred Review
"Eerily enchanting." —Washington Post
"You've seen countless stories about cute little creatures living secretly in our world, but you've never read one like Beautiful Darkness. It's a world that's as adorable as it is cruel, where life is beautiful but also cheap, and where death is omnipresent." —io9
"Set against the saccharine sweet storybook aesthetic of Kerascoët's rapturous watercolors, Vehlmann's narrative is a sinister saga that you won't be able to put down." —Nerdist
"The watercolor artwork here is painfully beautiful, and the book is...best read on three separate sittings -- one day for each season -- to take in rise and wane and grudges of the miniature empires." —Buzzfeed
"It's The Borrowers meets Lord of the Flies." —Comic Book Resources