The Unoriginal Guide to Originality (Paperback)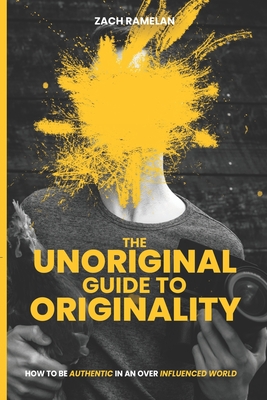 $20.00
Email or call for price.
Description
---
The Unoriginal Guide to Originality is a self-help book for the unrequited creatives, intimidated artists, and all the lost millennials (like yours truly). This book speaks directly to the heart of those who are trying to hear their own creative voice and not drown in life's tall glass of influence ( aka the social medias, the YouTubes, and all the god damn podcasts out there).
Let's face it, living a life with societal expectations, parental pressures, celebrity influence, global warming, pandemics, childhood trauma, and the latest Tik Tok trend gawking at us is overwhelming. The cacophony of our modern lives makes it hard to differentiate yourself and your ideas from everything around you. In a world that is constantly on, how can we decipher between what we see and who we are? How do we embody our most authentic selves? How can we be who we are meant to be? Mom tells us to "be ourselves," success says that uniqueness always triumphs, but how the F @K do we do that? You know who you are; the relationship status is just: complicated.
Through this book, I'll hold your hand through the process of demystifying all of the backward ideas we have been taught about creativity, originality, and finding your voice. I'll show you how to develop and embrace your unique voice using the tools and practices I've created, used, and helped others in their creative process. Plenty of my messaging will be directed towards creatives, but I also want to speak to a larger audience. I want to loudly profess to anyone who is struggling with being themselves. We are put into boxes that we don't always fit into, confined by others' expectations. Let's smash the box with a hammer and cobble together a new, personalized box that fits our own unique mold.