The Good, The Bad and The Infernal (Heaven's Gate #1) (Mass Market)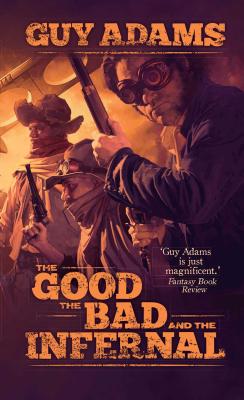 Staff Reviews
---
If you couldn't tell by the title, Guy Adams is not just a fan of the spaghetti westerns, he is a fanatic. It shines through in is his expansive cast of characters, each one more vibrant and entertaining than the last. You get to come along as each group shoots, drinks, brawls, and curses their way through hell to their final destination: Wormwood. Wormwood only comes along every hundred years and well, September 21, 1889 is the date, and mid-west America is the place. It is a dangerous and weird journey to what people say is the gateway to Heaven, but once you are on that road there is no getting off. I have already made a place for this entire trilogy on my book shelves.
—
DREW'S STAFF PICKS
Description
---
One day every hundred years, a town appears, its location and character different every time. It is home to the greatest miracle a man could imagine: a doorway to Heaven itself. The town's name is Wormwood, and it is due to appear on the 21st September 1889, somewhere in the American Midwest.

There are many who hope to be there: travelling preacher Obeisance Hicks and his simple messiah, Soldier Joe; Henry and Harmonium Jones and their freak show pack of outlaws; the Brothers of the Order of Ruth and their sponsor Lord Forset (inventor of the Forset Thunderpack and other incendiary modes of personal transport); and finally, an aging gunslinger with a dark history.

They will face dangers both strange and terrible: monstrous animals, predatory towns, armies of mechanical natives, and other things besides. Wormwood defends its secrets, and only the brave and resourceful will survive...
About the Author
---
Guy Adams lives with genius and writer A.K. Benedict in Rochester, Kent. He's the author of the Heaven's Gate trilogy of weird westerns, the Clown Service books and the Deadbeat novels. He's written countless hours of audio drama for Big Finish, from a wide range of Doctor Who titles to an adaptation of HG Wells' The Shape of Things to Come and the original horror series Blind Terror: The Gods of Frost. In comics he writes Rogue Trooper, Ulysses Sweet: Maniac for Hire and Max Normal for 2000 AD. With his comics husband, Jimmy Broxton, he is the co-creator of Goldtiger, the sixties newspaper strip that never existed... until now.
Praise For…
---
'If there was ever a writer who could write in Technicolor, it's Guy Adams; his creations leap off the page at you and make you jump back in shock.' Graeme's Fantasy Book Review 'Guy Adams is just magnificent.' Fantasy Book Review