The Good the Bad and the Infernal (Mass Market)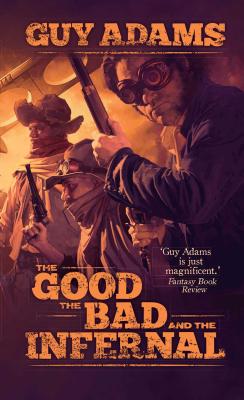 Staff Reviews
---
If you couldn't tell by the title, Guy Adams is not just a fan of the spaghetti westerns, he is a fanatic. It shines through in is his expansive cast of characters, each one more vibrant and entertaining than the last. You get to come along as each group shoots, drinks, brawls, and curses their way through hell to their final destination: Wormwood. Wormwood only comes along every hundred years and well, September 21, 1889 is the date, and mid-west America is the place. It is a dangerous and weird journey to what people say is the gateway to Heaven, but once you are on that road there is no getting off. I have already made a place for this entire trilogy on my book shelves.
—
DREW'S STAFF PICKS
Description
---
A weird western, a gun-toting, cigarrillo-chewing fantasy built from hangman's rope and spent bullets. The west has never been wilder. A Steampunk-Western-Fantasy from Guy Adams.

"You wish to meet your God?" the gunslinger asked, cocking his revolver, "well now... that's easy to arrange."

Every one hundred years a town appears. From a small village in the peaks of Tibet to a gathering of mud huts in the jungles of South American, it can take many forms. It exists for twenty-four hours then vanishes once more, but for that single day it contains the greatest miracle a man could imagine: a doorway to Heaven.

It is due to appear on the 21st September 1889 as a ghost town in the American Midwest. When it does there are many who hope to be there: traveling preacher Obeisance Hicks and his simple messiah, a brain-damaged Civil War veteran; Henry and Harmonium Jones and their freak show pack of outlaws; the Brothers of Ruth and their sponsor Lord Forset (inventor of the Forset Thunderpack and other incendiary modes of personal transport); finally, an aging gunslinger who lost his wings at the very beginning of creation and wants nothing more than to settle old scores.

A weird western, a gun-toting, cigarrillo-chewing fantasy built from hangman's rope and spent bullets. The West has never been wilder.
About the Author
---
Guy Adams trained and worked as an actor for twelve years before becoming a full-time writer. If nothing else this proves he has no concept of a sensible career. He mugged someone on Emmerdale, performed a dance routine as Hitler, and spent eighteen months touring his own comedy material around clubs and theatres. He is the author of the bestselling Rules of Modern Policing: 1973 Edition, a spoof police manual 'written by' DCI Gene Hunt of Life On Mars. Published by Transworld, it has sold over 120,000 copies. Guy has also written a two-volume series companion to the show published by Simon & Schuster; a Torchwood novel, The House That Jack Built (BBC Books); and The Case Notes of Sherlock Holmes, a fictional facsimile of a scrapbook kept by Doctor John Watson. Carlton Books published it in 2009 in association with the Estate of Sir Arthur Conan Doyle, to celebrate the 150th anniversary of the writer's birth.