Embroidered Country Gardens: Create beautiful hand-stitched floral designs inspired by nature (Paperback)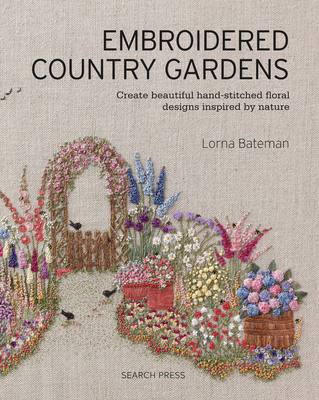 $26.95

Not Available In-Store - Usually Ships from Warehouse in 1-5 Days
Description
---
Learn how to embroider all the components of a country garden and then use this knowledge to create six exciting projects to keep.

Experienced embroidery teacher Lorna Bateman is passionate about teaching and about nature. This book will appeal to and inspire both beginner embroiderers as well as more accomplished students. Learn from Lorna how to create beautiful flower designs, using raised and textured stitches to recreate your own idyllic English country garden.

The book will walk you through a variety of stitches, how to embroider individual flowers from them and how to incorporate these into an original garden motif. For the nature enthusiast there is plenty to get excited about - an A-Z of English garden flowers and how to stitch them; a section on stitching common garden insects; and how to embroider iconic garden imagery such as birdbaths or garden ornaments.

There are six elaborate and practical projects to stitch: needlecase, scissorkeeper, pincushion, thimblepip, glasses case, thread storer, and these make great keepsakes as well as gifts. The book also features a full-size pattern insert for making a vintage bag in which to keep the individual projects.

Embroidered Country Gardens is peppered throughout with seeds of wisdom: invaluable hints and tips from the author to help you develop your own skills and unique style. As well as step-by-step instructions, there are also detailed photographs, outline template drawings and a fully illustrated stitch directory.
About the Author
---
Lorna Bateman has been working full-time as an embroidery teacher and designer since 1980. In 2002, she introduced a range of her own embroidery designs in kit form, available from her website www.lornabatemanembroidery.com. Her teaching has taken her all over the UK, to South Africa where she originates from, as well as to Russia, France and the USA. Lorna lives near Alton in Hampshire, UK.
Praise For…
---
From Mary Corbet - Needle n Thread - July 2019
If you love floral garden embroidery, especially if you like stitching small motifs that have an exuberant garden feel to them, you're just going to love this book – Embroidered Country Gardens by Lorna Bateman.
Embroidered Country Gardens is a beautiful book, and it's a thorough book when it comes to instruction for this type of free-style surface embroidery. The projects in it are all attainable – they're nothing complicated about any of them, and the instructions are clear and easy to follow.
There's plenty of scope in the book for personalizing your embroidery projects and making them unique, since the elements in the embroidery can all be combined in myriad ways to create ever-new designs.
I'd say the book is suited to beginners and beyond. While the embroidery is definitely on a small scale, it is all very achievable, very accessible, and very well-explained – and same with all the finishing work on the projects.
I didn't see any "cons" to the book. It'll make a beautiful, fun, and attainable addition to your embroidery library, whether for reference or for further project development.

Postcard Reviews July 2019

Lorna Bateman both expertly explains and demonstrates the craft, and her 'pictures' come alive in this very very beautiful book. The photography is stunning, and with the addition of templates, you will quickly be able to sew an amazing project. It will be easy to become a master of embroidery with just this one book. Embroidered Country Gardens lists all the tools you will need, it also gives you a comprehensive guide to needles…. if you thought there was only one kind think again!! The stitches are in A -Z order and what I loved was that each stitch is given a visual diagram, a hint and tip box and an easy to understand explanation. There are 12 projects, each one is perfect to practice your stitches and once again comes with specialist advice on getting a professional finish to your work.
This is a must have book, inspired by nature it is quite divine.
5*/5