Bridgnorth in the Great War (Your Towns & Cities in the Great War) (Paperback)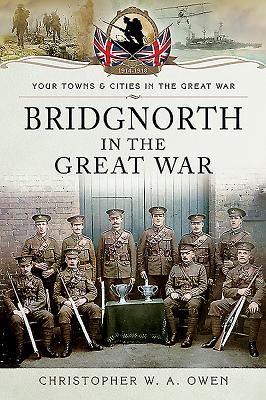 Description
---
World-famous Bridgnorth town is situated on the river Severn near Kidderminster and is a very popular anglers' haunt and tourist destination. Within the shadow of its very own Civil War-ravaged castle lies a unique funicular rail system and the north-western terminus of the famous Severn Valley heritage railway line.

Although steeped in military history, much of its Great War social history has remained obscure until now. This enthralling account explores many surprising and unknown facts about Bridgnorth and its wartime Home Front, drawing on a wealth of material from diverse primary sources, including official news reports that disclose the fullest picture of the terrible sacrifices the serving men, their relatives and also their townsfolk made to Britain's war effort.

Misled by government propaganda, which implied that the men were enlisting for a short-term adventurous romp, this little town patriotically sacrificed the flower of a generation to the largely trench-bound bloody morass the Great War became. Their commitment and fortitude gives testament to the incredible bravery of the people of Bridgnorth, and their losses are evidenced in the various commemorative monuments erected throughout the town and in surrounding hamlets.

Utilizing contemporary documents and wartime servicemen's poignant letters, some of which are disclosed for the first time, Bridgnorth in the Great War reveals how this once prosperous and industrious West Midlands' town endured the greatest sacrifice of its manhood to this cataclysmic event, which was fancifully dubbed 'the war to end all wars'.