The Ministry of Nostalgia: Consuming Austerity (Paperback)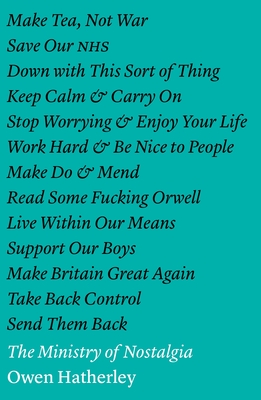 $16.95

Special Order - Subject to Availability
Description
---
Why should we have to "Keep Calm and Carry On"?

In this brilliant polemical rampage, Owen Hatherley shows how our past is being resold in order to defend the indefensible. From the marketing of a "make do and mend" aesthetic to the growing nostalgia for a utopian past that never existed, a cultural distraction scam prevents people grasping the truth of their condition.

The Ministry of Nostalgia explodes the creation of a false history: a rewriting of the austerity of the 1940s and 1950s, which saw the development of a welfare state while the nation crawled out of the devastations of war. This period has been recast to explain and offer consolation for the violence of neoliberalism, an ideology dedicated to the privatisation of our common wealth.

In coruscating prose—with subjects ranging from Ken Loach's documentaries, Turner Prize–shortlisted video art, London vernacular architecture, and Jamie Oliver's cooking—Hatherley issues a passionate challenge to the injunction to keep calm and carry on.
About the Author
---
Owen Hatherley was born in Southampton, England in 1981. He received a PhD in 2011 from Birkbeck College, London, for a thesis on Constructivism and Americanism. He writes regularly on architecture and cultural politics for Architects Journal, Architectural Review, Icon, The Guardian, The London Review of Books and New Humanist, and is the author of several books: Militant Modernism (Zero, 2009), A Guide to the New Ruins of Great Britain (Verso, 2010), Uncommon: An Essay on Pulp (Zero, 2011), A New Kind of Bleak: Journeys through Urban Britain (Verso 2012), Across the Plaza (Strelka, 2012) and Landscapes of Communism (Penguin 2015). He also edited and introduced an updated edition of Ian Nairn's Nairn's Towns (Notting Hill Editions, 2013). He lives in Woolwich and Warsaw.
Praise For…
---
"A brave, incisive, elegant and erudite writer, whose books dissect the contemporary built environment to reveal the political fantasies and social realities it embodies."
—Will Self

"A lively and gleefully argumentative book. Even when you disagree with Hatherley, he remains interesting. And there is a good chance, depressingly, that he is right about everything."
—Jon Day, Guardian

"Hatherley hunts down his sacred cows hungrily and with brio. It is a ride that you can enjoy even if you don't agree with the direction in which we're heading … Good iconoclastic fun."
—New Statesman

"Demonstrates the qualities of empathy and social conscience, combined with acute judgement, that confirms Owen Hatherley to be the only true heir today of the great architectural critic Ian Nairn."
—Gavin Stamp, Literary Review

"Combines analysis of the austerity nostalgia phenomenon with a parkour of film, art, graphic design, and especially architecture and urbanism, comparing romantic notions of wartime cohesion to the historical record."
—Maclean's

"The Ministry of Nostalgia is a brisk and bracing polemic about Britain's relationship with its recent history … Any successful political project must address itself to what's needed right now. Keeping calm and carrying on is about the worst possible response."
—Richard Godwin, Evening Standard

"Reflective and intelligent."
—Spectator