50 Queer Music Icons Who Changed the World: A Celebration of LGBTQ+ Legends (Hardcover)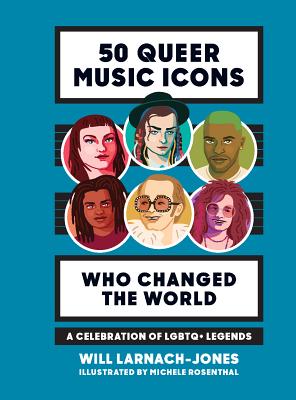 $14.99
Email or call for price.
Description
---
Featuring beautifully illustrated portraits and profiles, 50 Queer Musicians Who Changed the World is a tribute to queer ground breakers who changed the face of music and popular culture.

LGBTQ musicians have been pushing for change since the 1920s, with singers such as Bessie Smith crooning about same-sex liaisons almost 100 years ago – long before Frankie Goes to Hollywood were telling everyone to 'Relax'. This book is a celebration of artists who became icons, and broke new ground through song. From legendary figures such as Freddie Mercury, Little Richard, and George Michael, to bands like Bronski Beat, The Scissor Sisters, The XX, and The Petshop Boys, and more contemporary figures including Frank Ocean, Beth Ditto, and Rufus Wainright, these are the people who made an unforgettable impact. Elegantly illustrated and packaged, these stories make utterly inspirational reading.
About the Author
---
Will Larnach-Jones has worked in music for 20 years - wearing many hats throughout that time -  manager, publicist, agent, A&R, music programmer, marketing 'guru' and erstwhile (rubbish) DJ.

Along the way he's worked with many bands from every corner of the world. Graduating from the University of Melbourne with a Bachelor of Arts in Creative Writing, he's written hundreds of band bios, press releases and grant applications.

He writes music, fashion and culture pieces for the likes of Nataal.com and writing work for clients such as Toni & Guy, 3INA Make-Up and Sony Music.