Triumph of the Spider Monkey (Paperback)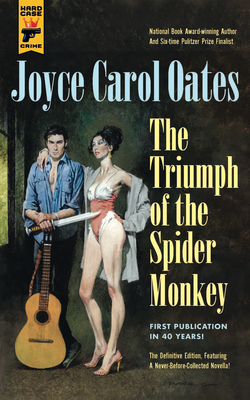 $9.95
Special Order - Subject to Availability
Description
---
Unavailable for 40 years, this seminal novel of madness and murder is acclaimed author Joyce Carol Oates' powerful trip into the mind of a maniac.

Abandoned as a baby in a bus station locker, shuttled from one abusive foster home and detention center to another, Bobbie Gotteson grew up angry, hurting, damaged. His hunger to succeed as a musician brought him across the country to Hollywood, but along with it came his seething rage, his paranoid delusions, and his capacity for acts of shocking violence.

Unavailable for 40 years, The Triumph of the Spider Monkey is an eloquent, terrifying, heartbreaking exploration of madness by one of the most acclaimed authors of the past century. This definitive edition for the first time pairs the original novel with a never-before-collected companion novella by Joyce Carol Oates, unseen since its sole publication in a literary journal nearly half a century ago, which examines the impact of Gotteson's killing spree on a woman who survived it, as seen through the eyes of the troubled young man hired by a private detective to surveil her...
About the Author
---
Joyce Carol Oates is the author of more than 70 books, including novels, short story collections, poetry volumes, plays, essays, and criticism, including the national bestsellers We Were the Mulvaneys and Blonde. Among her many honors are the PEN/Malamud Award for Excellence in Short Fiction and the National Book Award. Oates is the Roger S. Berlind Distinguished Professor of the Humanities at Princeton University, and has been a member of the American Academy of Arts and Letters since 1978.
Praise For…
---
"a full-blown freak show of serial murder, psychological self-torment, and literal disintegration" - Kirkus Review

"Boldly explicit, Oates' tale of criminal psychosis draws on the druggy decadence, greed, sexism, and violence of Hollywood in the Charles Manson-Roman Polanski era." -Booklist

"Oates digs so deeply into the psyche of the murderous personality that it makes for rough reading in parts, but the subject matter is not and should not be sacrificed on the altar of the reader's comfort zone." - BookReporter

"If you're a fan of psychological suspense novels, The Triumph of the Spider Monkey will leave you sleeping with the lights on for a few nights." - George Kelley 

"[The Triumph of the Spider Monkey] once again displays [Oates'] enviable skill, creativity, and versatility." - Mystery Scene Magazine