Weirder Maths: At the Edge of the Possible (Paperback)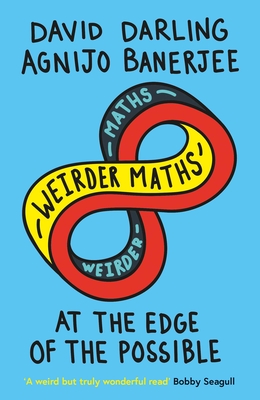 Description
---
Since there is something rather than nothing, could nothing exist?
Can you make the perfect labyrinth?
Does a quantum event have to be observed before it's "real"?
Just when you thought things couldn't get any stranger, David Darling and Agnijo Banerjee's reveal "bubble math" has been studied since the second century, the counterintuitive world of quantum can be described perfectly by mathematics, and the idea that maths and art couldn't be further apart is utter nonsense.
From centuries-old conundrums to eccentric geniuses like variste Galois (he failed the entrance exams at cole Polytechnique twice because he couldn't explain how he'd arrived at his correct answers) to how the strangest math connects to the everyday, Darling and Banerjee transform the bewildering into the beautiful, delighting us once again.
About the Author
---
David Darling is a science writer, astronomer and tutor. He is the author of nearly fifty books, including the bestselling Equations of Eternity. He lives in Dundee, Scotland. Agnijo Banerjee is one of the world's most outstanding young mathematicians and a former student of Darling's. At the age of thirteen he attained the highest possible score on Mensa's IQ test and in 2018 he tied for first in the International Mathematical Olympiad, becoming the first person from the UK to obtain a perfect score in 24 years. He was born in Kolkata, India, but has spent most of his life in Scotland. He is now continuing his studies at Trinity College, Cambridge.