The Ancestral Oracle of the Celts: Call on Your Ancestors for Guidance, Help and Healing (Cards)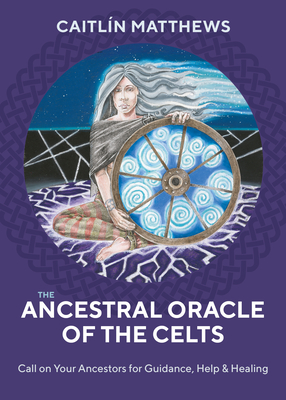 Description
---
By the renowned Celtic and shamanic expert Caitlín Matthews, this is the only oracle that uses the archetypes of the Celtic world to connect us to our ancestors, allowing us to consult them for guidance and insight, and to respond to their questions to clarify our thinking.

With an 88pp guidebook and 40 cards (beautifully illustrated by Wil Kinghan) embodying archetypes of the Celtic world, this fantastic interactive oracle offers a way of consulting and communicating with our ancestors, whatever our race or culture.

Two sets of cards make up the Oracle: 1. Divine Ancestor Cards: these eight cards represent the ancestors from whom everyone alive is descended - the matriarch (goddess) and patriarch (god) archetypes whom we all recognise. 2. Clan Cards: these 32 cards represent the circle of Common Ancestors, who stand behind our more recent forebears and hold a huge collective of wisdom. There are four clans: Truth, Honour, Sovereignty and Wisdom, each one based on a category of Celtic society (farmers, warriors, nobles and artists/craftspeople).

You can draw cards in different ways: a single card for immediate guidance, or spreads of between three and eight cards for a more in-depth reading (these are covered in detail in the guidebook). The oracle given by each of the Clan Cards enables you to make decisions, navigate challenging situations and follow your highest path, while the questions posed by the Divine Ancestors question your attitude to the issue you're asking about and help you to understand your own deeper motives. These ancestor cards are also perfect for approaching problems within a family or social group, including those passed down from our recent ancestors as well as those generated in the current era.

Celtic tradition is an enduring source of cultural and spiritual inspiration for many, making a bridge to the wisdom of our ancestral heritage, whatever our origins. Throughout, Caitlín has been inspired by rich stories of Celtic mythology and legend, which help express the meaning of each card.
About the Author
---
Caitlín Matthews is acknowledged as a world authority on cartomancy, Celtic wisdom and the Western Mysteries. She is the author of over 70 books, which have been translated into 19 languages. Her shamanic vocation emerged early in her ability to sing between the worlds and to embody spirits. She specializes in teaching traditional European spirit-consultation oracles in which the diviner draws directly upon the spirits of nature for answers.