Without Apology: The Abortion Struggle Now (Jacobin) (Paperback)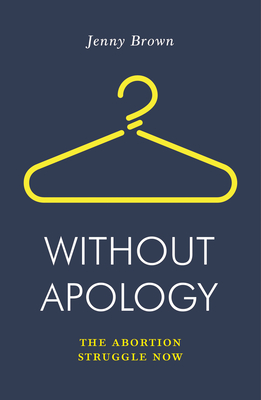 $17.95

Special Order - Subject to Availability
Description
---
An indispensable guide to building a fighting feminist movement for reproductive freedom

With an antiabortion majority on the Supreme Court and several states attempting to outlaw abortion altogether, many activists are on the defensive, hoping to hold on to reproductive rights in a few places and cases. This spirited book shows how feminism can start winning again.

Jenny Brown uncovers a century of legal abortion in the United States until 1873, recalls women's experiences in the illegal days, and shows how the women's liberation movement of the 1960s really won abortion rights. She draws inspiration and lessons from the radicals of Redstockings, the Army of Three, and the Jane Collective, putting together a road map for today's organizers from the black feminist argument for reproductive justice, the successful fight to make the morning-after pill available over the counter, and the recent mass movement to repeal Ireland's abortion ban.

Brown argues that politically conservative nonprofits have been setting the agenda, emphasizing rare tragic cases and relying on the rhetoric of choice and privacy. Instead, it is time to return to the fundamental ideas that won legal abortion in the first place: Women publicly telling the full truth of their own experience, demanding repeal of all abortion restrictions, and showing how abortion and birth control are the key demands in the struggle for women's freedom.
About the Author
---
Jenny Brown was a leader in the fight to get the morning-after pill over the counter in the US and a plaintiff in the winning lawsuit. She is co-author of the Redstockings book Women's Liberation and National Health Care: Confronting the Myth of America. While editor at Labor Notes magazine, she coauthored How to Jump-Start Your Union: Lessons from the Chicago Teachers. She writes, teaches, and organizes with the feminist group National Women's Liberation and is the author of Birth Strike: The Hidden Fight over Women's Work.
Praise For…
---
"By examining the failings and triumphs of previous movements for abortion rights, Without Apology manages to make perfect sense of the current political moment. This book will turn concerned individuals into activists and help beleaguered activists remember how it feels to believe that we can win."
—Amelia Bonow, Shout Your Abortion

"Without Apology draws an exhilarating line in the sand between reformers and visionaries, between near-sighted regulation and true reproductive freedom. Jenny Brown has given us a frank, full-throated gift in an era when abortion rights are threatened by hostility and timidity both. Without Apology made me want to tweet about my abortion till the day I die."
—Nona Willis Aronowitz

"A cogent manifesto … [Brown's] call to 'move feminism toward bolder, more universal demands' is likely to strike a chord with young progressives. This laser-focused polemic makes its case effectively."
—Publishers Weekly

"A powerful and extensively researched case for a militant approach to winning reproductive rights."
—Emily Janakiram, Baffler