Spear of the Emperor (Warhammer 40,000) (Paperback)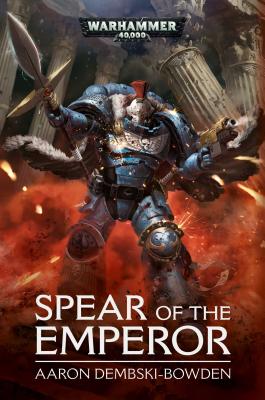 $16.00
Email or call for price.
Description
---
Great new novel from Aaron Dembski-Bowden chronicling the story of the Emperor's Spears, a Space Marine Chapter on the edge of destruction, last watchmen over the Elara's Veil nebula. Now, the decisions of one man, Amadeus Kaias Incarius of the Mentor Legion, will determine the Chapter's fate…

The scattered worlds of the Elara's Veil nebula were once protected by the oath of unity sworn by three mighty Chapters of the Adeptus Astartes. The Star Scorpions were undone by flaws in their genetic coding. The Celestial Lions were ravaged by the Inquisition for sins they did not commit. Now, after hundreds of years, only the Emperor's Spears still keep their vigil. They are barbarian watchmen against the Outer Dark; bloodied but unbroken in their long duty.

Amadeus Kaias Incarius, a brother of the Mentor Legion, is commanded to cross the Great Rift and assess the Spears' war-readiness, only to be drawn into the chaotic plight of a depleted crusade on the Imperium's benighted frontier. The decisions he makes, far from the God-Emperor's light, will decide the fate of the war-torn Chapter.
About the Author
---
Aaron Dembski-Bowden is the author of the Horus Heresy novels The Master of Mankind, Betrayer and The First Heretic, as well as the novella Aurelian and the audio drama Butcher's Nails, for the same series. He has also written the Warhammer 40,000 novel Spear of the Emperor, the popular Night Lords series, the Space Marine Battles book Armageddon, the novels The Talon of Horus and Black Legion, the Grey Knights novel The Emperor's Gift and numerous short stories. He lives and works in Northern Ireland.