Dinner with Jane Austen: Menus inspired by her novels and letters (Hardcover)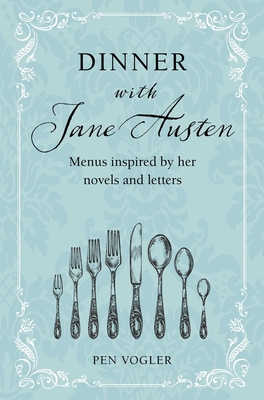 Description
---
Take a seat at the Regency dining table and share food enjoyed by Jane Austen's much loved fictional characters, as well as her own family.

Inspired by the novels and letters of Jane Austen, this collection of recipes is based on authentic recipes from the Regency era, which have been fully updated for modern-day cooks and are taken from the author's original book, Dinner with Mr Darcy with a renewed focus on the dinner parties that featured in Austen's novels. Menus featured include Mrs Bennet's Dinner to Impress (from Pride & Prejudice), An Old-fashioned Supper for Mr Woodhouse and his Guests (from Emma) and Christmas with the Musgroves (from Persuasion). The book includes menus for lighter fayre, such as Fresh Pea Soup, Baked Sole and Everlasting Syllabub, to the indulgent Roast Leg of Mutton Stuffed with Oysters followed by Buttered Apple Tart. The original recipes are given alongside, so you can compare them and appreciate modern time-savers all the more!
About the Author
---
Pen Vogler has written about food history for the press, edited Penguin's Great Food series, is the author of the Sunday Times Bestseller Scoff: A History of Food & Class in Britain (Atlantic Books 2020), and has recreated recipes from the past for BBC television shows. Pen is also the author of 'Dinner with Mr Darcy', also published by CICO Books. She lives in Hertfordshire.