Alex and Alex (Hardcover)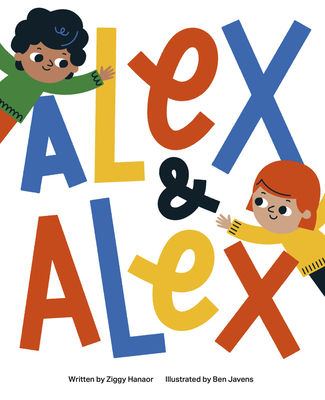 $16.99

Not Available In-Store - Usually Ships from Warehouse in 1-5 Days
Description
---
A simple, engaging story introducing ideas of non-binary identities, tolerance and acceptance to very young readers, from the writer of the critically acclaimed picture book, The Pocket Chaotic.
''A simple yet inclusive story that is likely to build tolerance, insight, and healthy relationships among young readers''. -- Booklist
''ALEX AND ALEX is a cute picture book about embracing differences and friendship''. -- YA Books Central
''What a fun book for illustrating gender fluidity With its polka dot endpapers and bright primary colors, this cheerful book shows that gender does not matter to good friends''. -- Youth Services Book Review
''A great addition to any early years classroom setting for discussions about friendship & embracing differences...& for older children to reflect upon stereotypes in relation to gender identities''. -- Just Imagine
''Need many more books like this one for young children '' -- Net Galley
''Alex and Alex is brilliant in its simplicity. I can't recommend it highly enough '' -- Picture Book Perfect
''What a wonderful book that I think every child making their first steps socially should have read to them''. -- The Great British Bookworm
''The lack of gender and deliberate avoidance of stereotypes makes this a useful book to help children think more about what allows people to get along and like each other''. -- School Reading List
''Definitely the best book I have come across that sensitively discusses the concept of being non-binary without preaching or taking away from the playful plot for children''. -- The Value's Bookshelf
Alex and Alex have lots of things in common. They love playing, and dressing up and building things. They also are very different to one another; Alex is very messy and Alex is very tidy, Alex likes running and kicking a ball and Alex likes reading and dreaming. After a trip to the museum goes a little bit awry, Alex and Alex have some cooling off time. But they always make up because Alex really really really really really really REALLY.... likes Alex
This is a book for very young readers introducing ideas of tolerance and friendship in a completely non-gendered way. Neither character is identified as a boy or a girl, and the activities that each one enjoys is a mix of traditional 'boy' and 'girl' things Aimed at children who are just at the cusp of gender awareness and role-play, it provides a much needed counter-balance to more traditional, binary pre-school literature. Boldly illustrated by Ben Javen
About the Author
---
Ziggy Hanaor is an editor and writer living in London. She is the author of the critically acclaimed graphic novel Alte Zachen. Her previous books include Fly Flies (Cicada, 2019) and The Pocket Chaotic (Cicada, 2020). Ben Javens is an illustrator and designer whose drawings have been featured in The New York Times, School of Life, Anorak and The Guardian as well as on products by Hugo Boss, Warburtons and TOMS. He is the illustrator of Two Can (Francis Lincoln, 2016).