The Sirtfood Diet: The Complete Cookbook! Activate Your Skinny Gene, Lose Weight, Burn Fat & Get Lean (Includes A Step-By-Step 21 Days Me (Hardcover)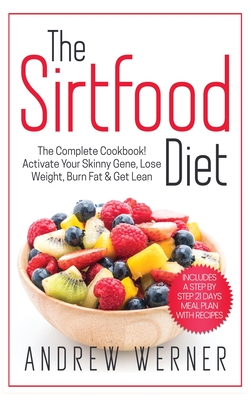 $28.99
Special Order - Subject to Availability
Description
---
The Sirtfood Diet is just what you need to lose weight, get healthy, and increase your energy
Millions of people across the globe have tried and failed at dieting. There are many reasons for that, but one of the most notable reasons is that they've not found a diet plan that provides many more benefits than just weight loss.
The Sirtfood Diet is revolutionary in that it addresses your overall health and well-being just by eating foods that contain sirtuin, the "skinny gene", a natural chemical compound found in fruits and vegetables.
If your goal is to have a slimmer waistline, a leaner physique, more energy, more muscle mass, and a proven way to eliminate fat all over your body, the Sirtfood Diet is for you.
Inside this book, you'll find:
A healthy 21-Day Meal Plan
Full explanations of what the Sirtfood Diet is and why it works
Tips for success
Shopping List
Lists of foods to avoid
And fully illustrated recipes to help you make the most delicious meals you've ever eaten
And more
Don't let another moment pass by without doing something to transform your life and body. Start the Sirtfood Diet today