Renal Diet Cookbook for Beginners: The Ultimate Guide to Managing Kidney Disease and Avoiding Dialysis. (Hardcover)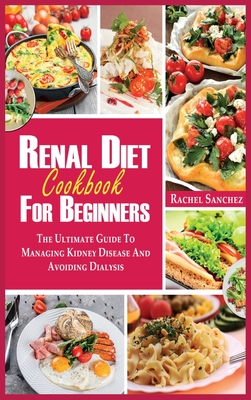 $37.95

Not Available In-Store - Usually Ships from Warehouse in 1-5 Days
Description
---
Do you suffer from kidney disease and are looking for a healthy diet and lifestyle to improve your health and avoid dialysis? Do you think that from now on you will no longer be able to enjoy delicious meals? If so, this is the right book for you
Your customers will never stop using this amazing cookbook
The renal diet is based on foods low in sodium, potassium, and phosphorus that are rich in essential nutrients to keep the kidneys as healthy as possible. Keep in mind that keeping your kidneys functional and healthy is the pillar of your overall well-being and long life.
So if you've gotten to this point, it is probably because you have been diagnosed with kidney disease or are living with someone who has kidney disease.
Precisely for this reason, it is essential to be aware of the problems caused by kidney disease and how to deal with them in the best way.
This book, RENAL DIET COOKBOOK FOR BEGINNERS: The Ultimate Guide to Managing Kidney Disease and Avoiding Dialysis, will help you manage your kidney disease and deciding which foods you should eat each day.
Here's a quick overview of what you'll find inside this cookbook:
What is kidney disease?
What are the causes of kidney disease?
Breakfast recipes
Lunch recipes
Snack recipes
Dinner recipes
Dessert recipes
I know right now, you are wondering:
What does a renal diet involve?
Will following a renal diet benefit me in the long run?
Will I be the right person to get results on this diet?
How will this book help me on my path with this disease and lead me to a healthy lifestyle?
So many questions, so many perplexities arise in every person who comes across this disease.
This book is here to help you overcome the first obstacles and give you a clear vision of what you will be living with.
Step by step, you, too, will discover what is important for living a healthy life.
Buy it now and let your customers become addicted to this incredible book.