Renal Diet Cookbook Breakfast Recipes: Healthy Recipes with Low Potassium, Low Sodium and Low Phosphorus to Stop Kidney Disease and Avoid Dialysis (Hardcover)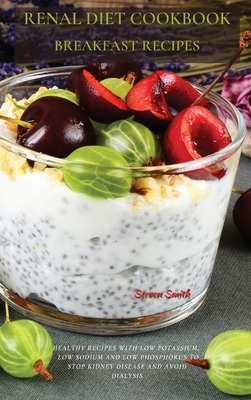 $38.95

Not Available In-Store - Usually Ships from Warehouse in 1-5 Days
Description
---
*55% Off Bookstores NOW at $ 38,95 instead of $ 48,95 *
Want To Become Your Own Doctor and Take Better Care Of Your Kidneys? Then Do Not Pass The Opportunity To Improve Your Health and Purify Your Body
Have you heard that foods that are low in sodium, potassium and phosphorus significantly benefit the body's organs, solve problems related to kidneys and promote overall longevity?
At a certain point in people's lives, everyone becomes vulnerable to different kinds of health issues and it is our sole responsibility to take adequate measures...
We want to feel good... energetic... free to do things we love... to feel alive...
That is exactly what The Renal Diet does for you
With This Scientifically Proven Diet you will:
- Go Through A Complete 4-Week Meal Plan and cleanse your inner body from damaging toxins
- Understand What Types Of Food Benefit Your Kidneys and avoid going through dialysis
- Learn Valuable Tips and Tricks to effectively slow down kidney disease and improve their state
- Restore your Energy Levels and Quality of Sleep while eating like a champion
- Prepare Your Favourite Dishes while still enjoying amazing flavours (omelettes, pancakes, brownies and smoothies... everything is in there...)
- ... and so Much More
The benefits of the Renal Diet may be countless, but...
It's up to you to make them count. The very first step starts with taking care of what you fuel your body with and making the right choices.
Luckily, this has already been done for you - you only need to follow the recipes
Do Not Procrastinate When It Comes To Your Health and Make No Compromise... ...
Buy it NOW and let your customer get addicted to this amazing book