Keto Diet Cookbook For Women After 50: The Step-By-Step Guide for Senior Women to Approach Ketogenic Diet, Hot to Regain Metabolism and Balance Hormon (Hardcover)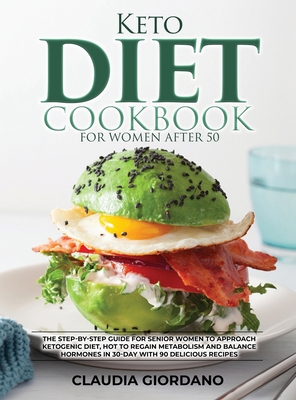 $49.97

Special Order - Subject to Availability
Description
---
Who says that when we reach the famous 50 years we have to give up wearing that dress that we like so much because of those extra pounds?
We all know how it feels ... Getting to 50 is a big milestone in our life, but our bodies are starting to undergo changes.
Don't worry, it's quite common for women over 50 to start gaining weight, and that's because our metabolism slows down and starts burning fewer calories, storing more fat in the body.
In this book I have grouped together the best eating habits to revive and rebalance your metabolism by starting to lose weight, without giving up on rich and tasty dishes.
All the basics of the keto diet
How to get into ketosis
Foods to eat and avoid
Benefits and side effects and how to manage them
30 day keto food plan
90 keto recipes for you
If you are tired of following diets that do not work, thanks to this book you will find a new approach to the keto diet, which will allow you to lose weight and also obtain health benefits, all accompanied by constant physical activity, which does not it will be more of a problem thanks to the newfound shape.
Grab a copy and see how you can lose weight, heal your body and above all regain your confidence
Buy it Now and get addicted to this amazing book