MRF Shadow Troop: The untold true story of top secret British military intelligence undercover operations in Belfast, Northern Ireland, (Paperback)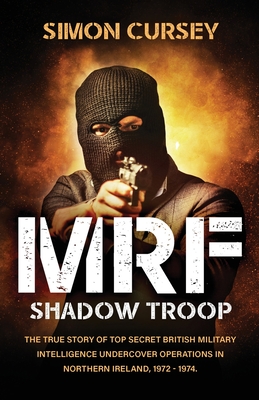 $13.99

Not Available In-Store - Usually Ships from Warehouse in 1-5 Days
Description
---
Some thought it stood for 'Military Reconnaissance Force', others 'Mobile Reconnaissance Force'. Many people thought it didn't exist at all...
For decades there has been argument in the media and amongst politicians about the possible existence and extent of a shoot-to-kill policy in Northern Ireland. MRF Shadow Troop confirms there was such an agenda in the early, chaotic days of British military intervention across the Irish Sea. But amongst the mountain of speculation there is little of any accuracy or authority relating to this period.
The speculation about the unit's name and mission only added to the uncertainty amongst their targets: members of the Provisional Irish Republican Army, the IRA, the provos. Simon Cursey was recruited into the Military Reaction Force - the unit's true name - in 1972. This book is his personal account of his time with the group and in it he reveals the truth about their operations - the briefings, missions, political wrangling, and government-sanctioned law-bending.
With documents and photographs to corroborate all his revelations, MRF Shadow Troop is a fascinating, exciting but above all accurate historical text about the pioneers of counter-terrorism.
Simon Cursey joined the British Army at the age of 15, direct from school. By the time he was 19, he was an NCO in an infantry unit and travelled to Canada, Africa and most of Europe. When he was 21, he was singled out, selected and trained for a covert, undercover, counter-terrorist unit; the long-denied Military Reaction Force (MRF) which was a short lived British Military Intelligence counter-terrorist unit, formed in the most dramatic period of The Troubles in Northern Ireland, from 1971 to 1974. Influenced by friends, Simon decided to write this book because of the years of lies and misinformation surrounding the MRF and its activities, also to honour the brave men he had the pleasure to work alongside. After his time in the MRF and a few difficult years adjusting back into uniform, Simon decided to leave the British Army to follow other interests and now lives in a peaceful Alpine village in Italy.