Greek Myths & Legends: Tales of Heroes, Gods & Monsters (Flame Tree Collector's Editions) (Hardcover)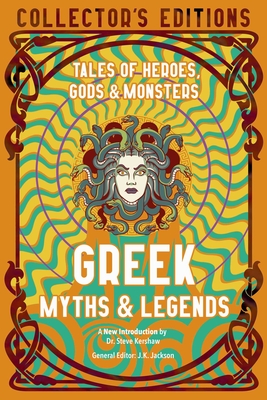 Description
---
Beautiful edition with a new introduction to the mighty exploits of Zeus, Odysseus, the twelve tasks of Heracles, and the Titans, highlighting the origins of modern fiction in myth and fable.

Gorgeous Collector's Edition. From the birth of Zeus, to Prometheus, Pandora and Helen of Troy, Odysseus and Jason and the Argonauts, the myths of the Greeks and, later, the Romans, are passionate and powerfully told. The Gods are jealous of each other's powers, subject to mighty outbursts of love and always seeking vengeance. The dark forces of the ancient world were held at bay by the resourceful and emerging civilization that formed the basis of Western culture, providing a tradition of fabulous tales that are retold here.

Flame Tree Collector's Editions present the foundations of speculative fiction, authors, myths and tales without which the imaginative literature of the twentieth century would not exist, bringing the best, most influential and most fascinating works into a striking and collectable library. Each book features a new introduction and a Glossary of Terms.
About the Author
---
Jake Jackson has written, edited and contributed to over 20 books on mythology and folklore. Related works include studies of Babylonian creation myths, the philosophy of time and William Blake's use of mythology in his visionary literature.

Dr Steve Kershaw is the author and tutor of Oxford University's Greek Mythology: Online course, a lecturer for the V&A and was an expert contributor to the History Channel's Barbarians Rising series. His publications include The Penguin Dictionary of Classical Mythology, A Brief Guide to Greek Mythology, A Brief History of Atlantis and Mythologica.