Troublemaking: Why You Should Organize Your Workplace (Paperback)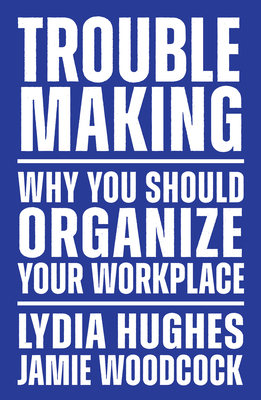 $19.95

Not Available In-Store - Usually Ships from Warehouse in 1-5 Days
Description
---
There are no unorganisable workers, only workers yet to be organised.

There has been an explosion of organising among workers many assumed to be unorganisable, from delivery drivers in London to tech workers in Silicon Valley.

The culmination of years of conversations on picket lines, in community centres, and in union offices, with workers in Britain, the US, India, Argentina, South Africa, Brazil, and across Europe, Troublemaking brings together lessons from around the world. Precarious workers waste collectors in Mumbai show that no worker is "unorganisable," cleaner organising at LSE and St Mary's hospital in London and Sans-papier workers in France indicate that demanding more at work can lead to big wins. Struggles like The Water Wars in Cochabamba, Bolivia show how we can use our power beyond the workplace.

From these movements, Lydia Hughes and Jamie Woodcock draw a number of lessons about why organising at work is the first step in building another world. They put forward three principles for organising. First, the need for action.

Struggles can change the world, but they also change people who go through them. Rather than using action as a last resort, we need action to build a movement. Second, the need to build the rank-and-file of unions. Power comes from organising at work, not in trusting others to do it on our behalf. Third, democracy matters in organising. This is not only about winning, but also developing the confidence to build another kind of world. This is not a "how to" guide, but a set of principles for the politics of organising.
About the Author
---
Lydia Hughes is a workplace organiser. She was the Head of Organising at the IWGB until 2021. She has been involved in organising with foster care workers, food delivery couriers, cycling instructors, cleaners, security guards, and game workers. She now supports socialist education initiatives and is active as a union member. She is an Editor at Notes from Below and Red Pepper.

Jamie Woodcock organised against casualised contracts as a UCU (University and College Union) member. He has been on strike with UCU many times since. Jamie became involved with the IWGB during the first strike of Deliveroo riders in London. He then became the secretary of the Universities of London branch. Following that, he was elected as the Branch Support Officer of the union, running the General Members branch and helping with new worker organising projects. He is the author of Working the Phones: Control and Resistance in Call Centres. He is an editor of Notes From Below and Historical Materialism.
Praise For…
---
"An inspiring and compelling case for workplace organizing - and the radical politics we need to rebuild a powerful workers' movement."
—Eric Blanc, author of Red State Revolt

"No advance for working people has been achieved without troublemaking and a read of this book will turn many more into effective troublemakers. Drawing on the hard fought struggles of workers to organise and mobilise in recent times the book not only inspires but also explains concisely how our economic system operates and how it can be challenged successfully."
—John McDonnell MP

"Troublemaking makes clear through real, lived examples in the book that we can learn from past workers' struggles and how looking at previous tactics and strategies can inform our actions today."
—Sarah Woolley, General Secretary, Bakers Food and Allied Workers Union

"Troublemaking provides inspiring examples of workers struggles and puts them in the context of the nature of work under capitalism and the fight to transform society. It makes a powerful case for troublemaking at work and building workers' rank and file power."
—Ian Allinson, workplace activist and author of Workers Can Win! A Guide to Organising At Work

"Troublemaking is a unique guide to the path from today's struggles to a socialist future that can help inspire a new generation of workplace and union activists to set foot on that risky road."
—Kim Moody, a founder of Labor Notes and author of Breaking the Impasse: Electoral Politics, Mass Action & The New Socialist Movement in the United States

"A galvanising book ... as timely as it is lucid."
—Mark Fisher, The Journalist

"[Troublemaking] is undeniably hopeful. Through spotlighting historical examples of political struggles where workers' organisations have played a key role, it demonstrates the potential for our current period of renewed trade union militancy to turn into something greater."
—Laura Hone, Red Pepper