I'm With the Bears: Short Stories from a Damaged Planet (Paperback)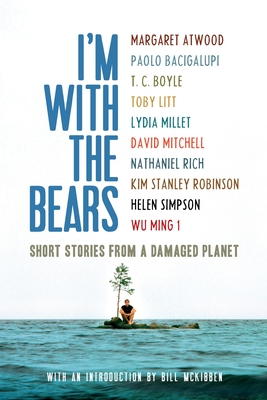 $16.95

Special Order - Subject to Availability
Description
---
A collection of "striking" short stories on the dangers of climate change—featuring works by Margaret Atwood, T.C. Boyle, Kim Stanley Robinson, and more (The Boston Globe)
 
The size and severity of the global climate crisis is such that even the most committed environmentalists are liable to live in a state of denial. The award-winning writers collected here have made it their task to shake off this nagging disbelief, bringing the incomprehensible within our grasp and shaping an emotional response to the deterioration of our global habitat. From T. C. Boyle's account of early eco-activists, to Nathaniel Rich's vision of a near future where oil sells for $800 a barrel—these ten provocative, occasionally chilling, sometimes satirical stories bring a human reality to disasters of inhuman proportions.

Royalties from I'm With the Bears will go to 350.org, an international grassroots movement working to reduce the amount of carbon dioxide in the atmosphere.
About the Author
---
Bill McKibben is the author of Eaarth: Making a Life on a Tough New Planet, among other titles; he is the founder of 350.org, which in 2010 organized what CNN called "the most widespread day of political action in the planet's history."

Margaret Atwood is a Booker Prize–winning poet and author of many acclaimed novels, including The Blind Assassin and The Handmaid's Tale.

Paolo Bacigalupi is the author of the sci-fi novel The Wind-Up Girl, which won the Hugo and Nebula awards.

T. C. Boyle has a long list of books to his credit, including the PEN/Faulkner Award–winning novel World's End and The Road to Wellville. His latest novel is When the Killing's Done.

Toby Litt has written nine novels and two short story collections; in 2003 he was chosen as one of Granta's twenty Best British Novelists Under Forty.

The author of the New York Times Notable Book Ghost Lights and eight other works of fiction, Lydia Millet has won the PEN-USA Award and been a Pulitzer Prize finalist. She lives in Tucson, Arizona.

David Mitchell has been twice shortlisted for the Booker Prize; his novels include Cloud Atlas and most recently The Thousand Autumns of Jacob de Zoet.

Nathaniel Rich is the author of The Mayor's Tongue and Odds Against Tomorrow.

Kim Stanley Robinson is the Hugo and Nebula prize–winning author of the Mars Trilogy and a trilogy of novels about climate change that go under the title Science in the Capital.

Helen Simpson is a prize-winning short story writer and novelist; in 1993, she was selected as one of Granta's twenty Best British Novelists Under Forty.
Praise For…
---
"These are the jolts we dearly need; this is a serious business we're involved in."—Bill McKibben, from the introduction

"10 authors at the top of their game, tackling the most pressing issue of our generation."—New Internationalist

"The stories dazzle the reader with their imaginative range and depth."—Independent

"The line-up of mostly British and North American talent is impressive—TC Boyle, Toby Litt, David Mitchell—and while they sometimes bash you around the head with a blunt instrument (Nathaniel Rich), the best are fierce and fearless, including Helen Simpson's acerbic, apocalyptic Diary Of An Interesting Year"—Metro

"All the writing in this volume is excellent"—Kate Saunders, The Times (Saturday Review)

"The high point for me was Paolo Bacigalupi's The Tamarisk Hunter ... More than any other story in the collection, it makes climate change feel real."—Michael Marshall, New Scientist

"A wonderful idea."—John Harding, Daily Mail

"About what might happen if our worst nightmares come true."—William Leith, Evening Standard

"Compelling ... these stories inspire both fear and hope. The other reason this little volume is so terrific is that the stories are written with verve and style."—Elizabeth Taylor, Literary Editor, Chicago Tribune

"These ten stories avoid the sort of didactic, righteous preaching that elsewhere grates ... any reader with an interest in environmental issues will appreciate these different angles on the most pressing of our many current crises."—Ben Kupstas, The L Magazine

"It's not what you think—some sort of enviro agitprop. These are literary artists responding to our situation head-on, as artists, and with striking results."—Wen Stephenson, The Boston Globe