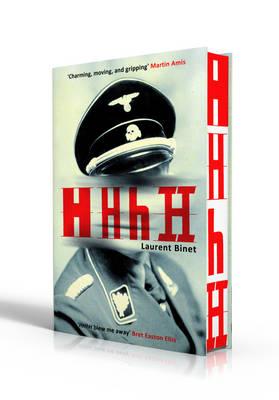 $38.00
Special Order - Subject to Availability
Staff Reviews
---
In what is technically a novel, Laurent Binet tells the story of the two Czechoslovakian parachutists (one Czech, one Slovak) who pulled off the most daring assassination of World War II. These two brave men were able to take down one of the most powerful men in Hitler's regime, Reinhard Heydrich. The title, HHhH, comes from a German phrase of the time which translates to "Himmler's brain is called Heydrich." At the same time, Binet explores the idea of writing historical fiction, and agonizes about how to honor these two brave souls by telling their story accurately. Amazing!
—
Sarah B.
Description
---
Laurent Binet's "HHhH, winner of the "Prix Goncourt du Premier Roman, is "a work of breadth, and absolute originality" (Claude Lanzmann)
Everyone has heard of Reinhard Heydrich, "the Butcher of Prague." And most have heard stories of his spectacular assassination at the hands of two Czechoslovakian partisans. But who exactly were the forgotten heroes who killed one of history's most notorious men? In Laurent Binet's captivating debut novel, "HHhH "("Himmlers Hirn heiBt Heydrich," or Himmler's brain is called Heydrich), we follow the lives of Jozef Gabcik and Jan Kubis, the Slovak and the Czech responsible for Heydrich's death. From their heroic escape from Nazi-occupied Prague to their recruitment by the British secret services; from their meticulous preparation and training to their harrowing parachute drop into a war zone; from their stealth attack on Heydrich's car to their own brutal deaths in the basement of a Prague church, Binet narrates the compelling story of these two incredible men, rescuing their heroic acts from obscurity. The winner of the prestigious Prix Goncourt du Premier Roman, Binet's "HHhH "is a novel unlike anything else. A seemingly effortless blend of historical truth, personal memory, and Binet's remarkable imagination, "HHhH "is a work at once thrilling and deeply engrossing--a historical novel and a profound meditation on the nature of writing and the debt we owe to history.
About the Author
---
Laurent Binet was born in Paris, France, on July 19, 1972. He graduated from Sciences Po, the CELSA Paris (DESS), and the University of Kent, where he completed an MA in European studies. He is the author of "La Vie professionnelle de Laurent B., "a memoir of his experience teaching in secondary schools in Paris. In March 2010, "HHhH "won the Prix Goncourt du Premier Roman. Binet is a professor at the University of Paris III, where he lectures on French literature.