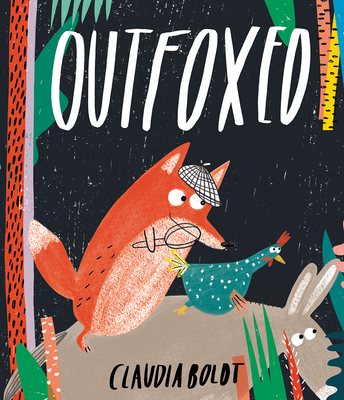 $16.95
Email or call for price.
Staff Reviews
---
My parents are probably lucky this book didn't exist when I was a child – if it had, I would have been constantly pestering them to read it to me 'just one more time.' Even as an adult, I felt the need to start over and read it again immediately after finishing it. Harold the fox is a wonderful character, an adorable detective with the courage to follow his own path and treat others with compassion. I couldn't help but smile at his adventure. Sweet, clever, silly, charming, and hilarious, Outfoxed is a joy for all ages.
—
Jason
From the very first lines of this book, I knew Harold the fox would be an instant favorite of mine. I mean, really, how could you not love a fox whose greatest love is Swiss cheese? With whimsical artwork and the most adorable detective fox that you'll ever meet, Outfoxed is a wonderfully engaging story that makes a perfect addition to any picture book library.
—
Heather H.
Description
---
Harold is unlike any other fox. He hates eating chicken, for one thing. He much prefers reading detective novels. When Harold's father challenges him to catch a chicken as part of his initiation into adulthood, Harold is faced with a dilemma—should he obey his father and endanger the chicken's life, or do what his heart tells him is right? The latest title from award-winning illustrator Claudia Boldt, Outfoxed introduces a smart, independent-minded character in Harold the fox and is sure to become a bedtime favorite.
About the Author
---
Claudia Boldt, author of Melvin: The Luckiest Monkey in the World, is a German illustrator based in London. She attended the Glasgow School of Art and then Kingston University, London. Boldt was a winner of the British Booktrust Best New Illustrators Award in 2011.