Rachel Owen: Illustrations for Dante's "Inferno" (Hardcover)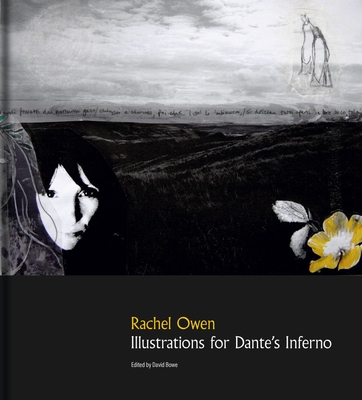 $40.00

Not Available In-Store - Usually Ships from Warehouse in 1-5 Days
Description
---
Published here for the first time, these illustrations of Dante's Inferno offer a radical new approach to the poem.

Before her death in 2016, the artist Rachel Owen began an ambitious project: illustrating The Divine Comedy. This volume includes the completed illustrations for Dante's Inferno, which cast the viewer as a first-person pilgrim through the underworld. These illustrations combine the artist's deep cultural and historical understanding of the text and its artistic legacy with her unique talent for collage and printmaking. With their unique perspective and visual language, Owen's illustrations prompt us to rethink Dante's poem.

Owen's work, held in the Bodleian Library and published here for the first time, illustrates the complete cycle of thirty-four cantos of the Inferno, with one image per canto. In essays contextualizing Owen's work, Fiona Whitehouse provides details of the techniques employed by the artist, Peter Hainsworth situates Owen's work in the field of modern Dante illustration, and David Bowe offers a commentary on the illustrations as gateways to Dante's poem. Jamie McKendrick and Bernard O'Donoghue's translations of episodes from the Inferno provide complementary artistic interpretations of Dante's poem, while reflections from colleagues and friends commemorate Owen's life and work as an artist, scholar, and teacher.
About the Author
---
David Bowe is an Irish Research Council postdoctoral fellow in the Italian department of University College Cork and co-director of the Centre for Dante Studies in Ireland.
Praise For…
---
"Among all the new Dante commentaries, conferences, festivals, and translations of 2021, one publication in particular stands out as truly momentous: Rachel Owen's Illustrations for Dante's 'Inferno.' Not since Salvador Dalí's one hundred watercolors of The Divine Comedy (1951–1960) and Robert Rauschenberg's equally extraordinary transfer drawings of Inferno (1958–1960) has an artwork reimagined Dante's netherworld with such novelty and originality. . . . Owen's photographic prints reveal just how unbounded Dante's afterlife is when imaginative artists reenvision it."
— Robert Pogue Harrision

"For seven hundred years artists armed with pens, needles, and brushes have been eager to accompany Dante into hell. Rachel Owen decided to take her camera as well, and returned with images which she mixed with found materials and bold markers plus a few dashes of color to create what seem like daring stills from a film noir of Dante's journey."
— Tom Phillips

"More than 'illustrations,' Rachel Owen's images work powerfully on the viewer, who is invited to become the pilgrim/Dante and so to experience The Divine Comedy with an unprecedented directness. Her bold incorporation of personal imagery is faithful to the spirit of the poem, to which she sends us back with a renewed sense of Dante's universal appeal. This beautiful tribute from poets and Dante specialists to one who was herself both a scholar and an artist is a significant contribution to all of these fields."
— Gervase Rosser, University of Oxford