No Worse Enemy: The Inside Story of the Chaotic Struggle for Afghanistan (Hardcover)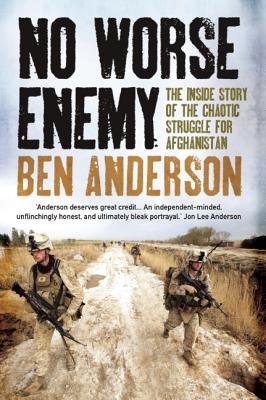 Description
---
Informed by over 300 hours of frontline footage with the U.S. Marines, critically acclaimed documentary filmmaker Ben Anderson provides a gripping account of the Afghanistan war in Helmand province.
The only journalist to have witnessed every Afghan military campaign under Obama, Anderson charts the progress of the President's counter-insurgency strategy and shows how it has become a lost cause. Including interviews with military top brass, this book reveals the disturbing chasm between official rhetoric and the reality on the ground. While Afghan civilians doubt American resolve and miss the relative peace under the Taliban, the drug-addled local army is hopelessly unprepared for American handover.
Enjoying unrivaled respect from the troops (one marine described him as a brave motherf***er ), Anderson offers the most intimate depiction of the war seen in print. Eating, sleeping, and being shot at with the troops, he witnessed first-hand IED explosions, American casualties, civilian deaths and Taliban soldiers that melt into the local population. The definitive book on the struggle for Helmand, No Worse Enemy is a bold and frightening expose of the longest war in U.S. history.

About the Author
---
Ben Anderson has been making documentaries and writing for over 14 years, producing over forty films for HBO, the Discovery Channel, PBS and VBS, and the BBC. He has written and presented five of his own series for BBC television in the UK. His films have been finalists for the BAFTA and he has written for Esquire, The Times of London, Guardian, London Review of Books, Mirror, and the Daily Mail. He has appeared on a variety of national TV shows in the US, including: MSNBC Morning Joe, MSNBC Jansing and Company, FOX America's Newsroom, CNN Parker/Spitzer and MSNBC Hardball with Chris Matthews. He lives in the UK.