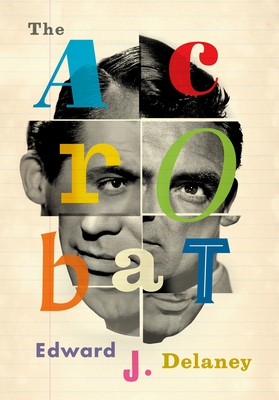 Staff Reviews
---
Before he was Cary Grant, he was Archie Leach, a man always searching for reinvention. This is his story told from a true fan of golden age cinema and vaudevillian Hollywood. Semi-biographical fiction is not my forte, but Delaney's nonlinear narrative approach and meticulous voice is so sincere that I almost feel like he knew Grant himself. Meanwhile, LSD-inspired asides invite a more fluid and modernist approach to one of film's most charismatic vagabonds.
— From
Trevor's Picks
Description
---
AN OPRAH DAILY BEST NOVEL BASED ON A TRUE STORY

"Delaney 's] splendid
fictional biography of Cary Grant . . . perfectly befits the glamour and fakery
of his subject." --Publishers Weekly (starred review)
"Everyone wants to be Cary Grant," mused the world's most famous leading man. Even I want to be Cary Grant."
It's 1959, and the 55-year-old man who calls himself Cary
Grant is at the peak of a charmed career. He's also on a turbulent journey to
find the core of a self he hardly seems to know anymore. Introduced to the wonder
drug LSD as part of his therapy at The Psychiatric Institute of Beverly Hills,
he embarks on upward of one hundred psychedelic trips--at times harrowing journeys.
And on the way, he rediscovers the long-ago boy who faced the world as Archie
Leach, the earnest, gap-toothed stilt walker and tumbler he once was, long ago. In
The Acrobat
, fiction writer Edward J. Delaney takes on
the elusive character of Cary Grant. He imagines the inner life of a man who spent
a career brilliantly creating a persona as ethereal as his best roles. As Grant
launches on LSD-fueled trajectories of discovery,
The Acrobat
likewise transports
readers through his fractured upbringing, his start in English vaudeville, his
life on the Hollywood sets, and his relationships with fellow travelers prominent in his
life: Howard Hughes, Randolph Scott, Blake Edwards, Tony Curtis, two of the five
women he married, and more. Amid the endless versions of himself and the
characters he's played, he yearns to shape himself into something singular, forged from
the layers of illusion he's smilingly foisted on the world, and for which the world
has come to love him. This riveting dramatization of the actor's life takes us
beyond the firm terrain that biographies tread, to offer a new perspective on a
complex Hollywood legend.
About the Author
---
Edward J. Delaney is an award-winning author, journalist, filmmaker, and educator whose previous works of fiction include The Big Impossible, Follow the Sun, and Broken Irish, published by Turtle Point Press. He is the recipient of a PEN/New England Award for Fiction, an O. Henry Prize, and a National Endowment for the Arts fellowship. He lives in Bristol, Rhode Island.