Whatever It Takes (Hardcover)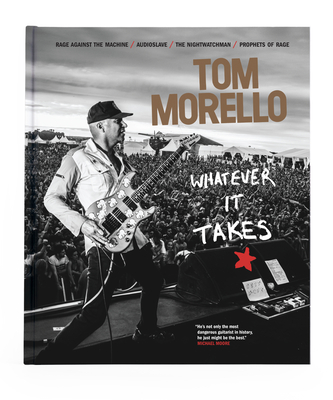 Description
---
"I'm both blessed and cursed to be a guitar player. I didn't choose it, it chose me. The challenge was to find a way to weave my convictions into my music in a meaningful way." - Tom Morello
As the cofounder and guitarist of Rage Against the Machine, Audioslave, and Prophets of Rage, and as a solo artist and collaborator with artists as diverse as Bruce Springsteen and Wu-Tang Clan, few musicians have been as groundbreaking as Tom Morello. Now, for the first time, Morello's remarkable life as a guitarist, songwriter, singer, and political activist is captured in Whatever It Takes.
Telling the story from his first guitar to the present day, Morello's commentary is accompanied by a wealth of photographs, handwritten notes, and set lists, many of which are previously unpublished and come from the author's personal archives. Stunning images of Morello's heavily customized guitars complete this jam-packed photographic memoir, and the result, like his incendiary guitar playing, is fascinating, honest, and completely unique.
Introduced by the Oscar-winning filmmaker Michael Moore, Jann Wenner, the cofounder of Rolling Stone, Morello's Prophets of Rage collaborator Chuck D, and Nora Guthrie, daughter of the legendary Woody Guthrie, Whatever It Takes is the defining document of one of the greatest rock guitar players of our times.
"He's not only the most dangerous guitarist in history, he just might be the best." - Michael Moore
"He's not only a brilliant musician, but he has a deep heart and a social conscience, just like Bob Dylan, Bruce Springsteen, Bono, or Jackson Browne. Tom is right up there with that gang. I think this excellent book helps prove why." - Jann Wenner
"Tom Morello is a Visionary Activist, meaning what he sees in his mind goes full throttle into him making IT happen." - Chuck D
"A musician who has no fear, who is not afraid of a good fight, and has no hesitation. When Tom Morello sings "This Is Your Land" he demands we jump up and sing with our fists raised." - Nora Guthrie
About the Author
---
Tom Morello is living proof of the transformative power of rock 'n' roll. As the co-founder of Rage Against the Machine, Audioslave and Prophets of Rage, and through collaborations with everyone from Bruce Springsteen to Johnny Cash, he has continually pushed the limits of what one man can do with six strings. "I've been devoted both musically and as an activist to fighting injustice at every turn," says Morello. "Amid this heightened sense of impending doom, it's now time to rally the troops in a last-ditch effort to save the planet, and our artistic souls. By challenging the boundaries of what music is and has sounded like before, you can open peoples' eyes to changing the status quo in society."