Agatha: The Real Life of Agatha Christie (Paperback)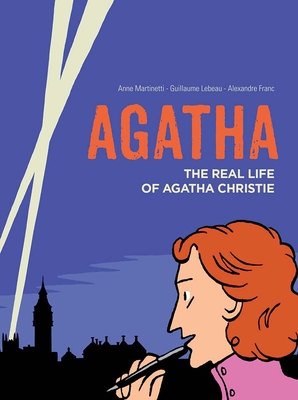 Staff Reviews
---
If you are a fan of Agatha Christie this graphic novel is for you. One of the greatest mysteries about Agatha Christie is what happened during a 10 day period when she went missing & that is where this graphic novel starts. I really enjoyed reading this because it was a cleverly told biography that brings her to life and also her most famous characters. One certain Belgium detective is very chatty to say the least. The novel moves quickly and I wished it was longer because I highly enjoyed this look into Dame Christie's long and interesting life.
—
Heather G.
Agatha Christie is one of my favorite mystery writers. Yet despite years of reading her work, I recently realized I knew next to nothing about her as a person. Unfortunately, due to the ridiculous amount of fiction I prefer to read, I don't usually have the time (or attention span) for written biographies. When I saw this appear on our shelves, the life of Agatha Christie in graphic novel form, I snagged it right away. This biography is engaging, it shows all the major events in her life in a creative and page-turner way. Going in blind, I learned so much about her; she was a pretty badass woman for her time. Even though she married a couple times, her writing and career were her most prominent passions throughout her long life. This biography appeals to long-time Christie fans with mental narrative appearances by Poirot and Marple, but it will also capture the attention of people who have yet to read her brilliant work.
—
Leah
Description
---
The life of Agatha Christie was as mysterious and eventful as her fiction. This beautifully illustrated graphic novel traces the life of the Queen of Whodunnit from her childhood in Torquay, England, through a career filled with success, mischief, and adventure, to her later years as Dame Agatha. Revealing a side to Christie that will surprise and delight many readers, Agatha introduces us to a free-spirited and thoroughly modern woman who, among other things, enjoyed flying, travel, and surfing. Centering around an episode in 1926 when Christie staged her own disappearance, Agatha is an intriguing, entertaining, and funny exploration of the 20th century's best-loved crime novelist.
About the Author
---
Anne Martinetti is editorial director at Les éditions du Masque. She teaches the translation of detective novels at the Institut Charles V. Martinetti lives in Paris.

Guillaume Lebeau is the award-winning author of 15 books, novels, and graphic novels, including a biography of Stieg Larsson. He lives in France.

Alexandre Franc is a comics artist and an illustrator. He is the author of numerous educational books and comics for children. He lives in France.