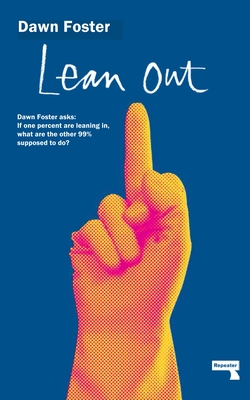 $14.95

Special Order - Subject to Availability
Staff Reviews
---
I had a huge issue with Sheryl Sandberg's Lean In message, and that issue is this: her advice is really only useful to already affluent or semi-affluent women with enough financial security and support structures in place to fight against a corporate structure that systematically disadvantages women. Foster's Lean Out takes an educated and in-depth look at just how useless Sandberg's "advice" is to working-class and poverty-stricken women, and just how little Sandberg has actually done for "feminism". Sandberg's seeming assertion that women aren't rising to the top because we just aren't aggressive enough is insulting to working women and overlooks the larger patriarchal structures that hinder gender equality. Foster's Lean Out expertly points out the real issues hindering women, and why Sandberg's so-called feminism won't help many - if any - women at all.
—
Em
Description
---
Sheryl Sandberg's business advice book, Lean In, was heralded as a defining moment in attitudes to women in business. But for all its commercial success, it proposed a model of feminism that was individualistic and unthreatening to capital.

In her powerful debut work Lean Out, acclaimed journalist Dawn Foster unpicks how the purportedly feminist message of Sandberg's book neatly exempts patriarchy, capitalism and business from any responsibility for changing the position of women in contemporary culture. It looks at the rise of a corporate '1% feminism', and at how feminism has been defanged and depoliticised at a time when women have borne the brunt of the financial crash and the gap between rich and poor is widening faster than ever.

Surveying business, media, culture and politics, Foster asks whether this 'trickledown' feminism offers any material gain for women collectively, or acts as mere window-dressing PR for the corporations who caused the financial crash. She concludes that 'leaning out' of the corporate model is a more effective way of securing change than leaning in.
About the Author
---
Dawn Foster is a writer and journalist. She is a columnist for The Guardian, and writes for the London Review of Books, New York Times, Dissent and Prospect, among other publications. She won the IBP Young Journalist of the Year award in 2014. Her book Lean Out (Repeater, 2015) was shortlisted for the 2017 Bread and Roses Award and her journalism was longlisted for the 2017 Orwell Prize for Exposing Britain's Social Evils.
Praise For…
---
"Rarely does 'essential reading' really mean that you urgently need to read a book. But Lean Out is different: the argument that a society that promotes 'aspiration' must rely on outliers is just one of its many gems. There is a danger that corporate feminism will enter academia and will not be recognised for the aberration that it is.Lean Out is the antidote. Just 87 pages long, it is well worth the many hours it takes to read and absorb."

- Danny Dorling, Halford Mackinder professor of geography, University of Oxford

"A very important, much-needed and well-researched book that isn't afraid to ask the right questions and demand answers. It is a straight-talking, timely call to arms" - Independent on Sunday 
 
"Vigorous…trenchant…a robust critique…it's conclusion is both inevitable and startling" - Shahidha Bari, Times Higher Education
 
"Excellent…forward-looking" -  Sarah Leonard, Bookforum
 
"...much more than just a riposte to the popular business manifesto for women. Fascinating, thought-provoking and at times outrage-inducing, Lean Out elucidates the many ways in which women are being subjugated by corporations and the government, and encourages us to take direct action to address these inequalities." - Ariane Sherine, Huffington Post