Pokolenie tożsamości: Deklaracja wojny przeciwko pokoleniu '68 (Paperback)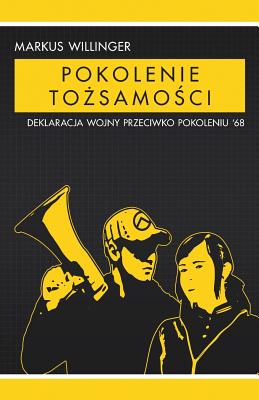 $10.99

Not Available In-Store - Usually Ships from Warehouse in 1-5 Days
Description
---
Zaprzeczenie prawa Europejczyk w do posiadania ich wlasnego dziedzictwa, historii, a nawet ich fizycznej ojczyzny, stalo się częścią fundamentu kulturowego wsp lczesnego Zachodu. Masowa imigracja, selektywna i szkalująca propaganda, jak r wnież nieustanny nap r perwersji lub -- w najlepszym przypadku -- bezużyteczna kultura konsumencka, wszystko to prowadzi do przemienienia Europy w nicośc. Jej rodzima populacja sklada się gl wnie z wyizolowanych jednostek, nieposiadających nawet znamiona celu lub kierunku, kt re prześladowane są przez system polityczny nieinteresujący się zarządzanymi przez siebie ludźmi.
Istnieje wiele pogląd w na to, jak do tego doszlo, jednakże rewolucja z maja roku 1968 z pewnością odegrala kluczową rolę w stworzeniu apolitycznej i autodestrukcyjnej sytuacji, w kt rej znajduje się postmodernistyczna Europa.
Jednakże to nie jest książka historyczna. Nie jest ona zasadniczo o tym, jak do tego doszlo, lecz raczej odnosi się do tego, co można i co powinno zostac uczynione w tej sprawie, a dokladniej -- kto to zrobi. Po zdradzie politycznych, dziennikarskich i akademickich pseudo-elit oraz samozadowoleniu calej generacji Europejczyk w, kt ra to umożliwila, to na mlodych -- gl wne ofiary wykolejenia zachodniego spoleczeństwa -- spada zadanie powrotu na wlaściwe tory.
W Pokolenie Tożsamości aktywista Markus Willinger prezentuje w czterdziestu jeden zwięzlych i dosadnych rozdzialach swoje rozumienie ideologii budzącego nadzieję ruchu tożsamościowego (identytarystycznyego).
Willinger prezentuje krysztalowo przejrzysty wizerunek tego, co poszlo źle oraz wskazuje kierunki, na kt re powinnyśmy spojrzec w celu znalezienia rozwiązań. Poruszając się gladko pomiędzy sferami radykalnej polityki i filozofii egzystencjalnej, Pokolenie Tożsamości wyjaśnia w zwięzlej, jakkolwiek poetyckiej formie, co mlodzi Europejczycy muszą powiedziec -- lub powinni powiedziec -- skorumpowanym przedstawicielom zniedolężnialych struktur spolecznych, kt re kontrolują nasz kontynent.
To nie jest manifest, to jest deklaracja wojny.