Something About a Bear (Hardcover)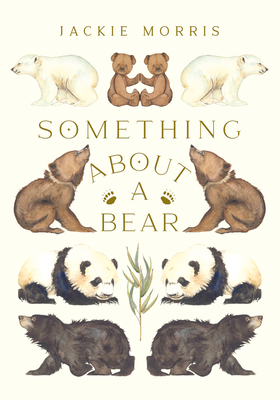 Staff Reviews
---
You've heard of black bears and pandas, but have you heard of moon bears or the illusive spectacled bear? This book pairs gorgeous illustrations with informative, yet poetic entries on every bear imaginable, including the most huggable bear there is - the teddy bear. It makes a perfect gift for children age 3 and up, or any adults that enjoy the artwork of Jackie Morris.
— From
Kathryn's picks
Description
---
A beautiful large format gift edition of Jackie Morris's stunning and evocative celebration of bears

Here are eight majestic wild bears, brought to life in breathtaking watercolor paintings.

Brown Bear, Black Bear, Polar Bear, Sloth Bear, Spectacled Bear, Sun Bear, Moon Bear. All are gloriously depicted, with lyrical descriptions of their lives in the wild. But of all the bears in the wild, wide world, which is the best bear of all? Your teddy bear, of course!

Kate Greenaway medalist Jackie Morris, acclaimed illustrator of the international bestseller The Lost Words, has created this spectacular gallery of bears to instill a love of wild places and a respect for all creatures.
About the Author
---
Jackie Morris is the bestselling author and illustrator, photographer and painter who created the international bestseller The Lost Words, winner of the CILIP Kate Greenaway Medal in 2019, with Robert Macfarlane.

Her books for Otter-Barry Books include One Cheetah, One Cherry, The Seal Children, The Jackie Morris Book of Classic Nursery Rhymes and, with James Mayhew, Can You See a Little Bear?, Mrs Noah's Pockets, Mrs Noah's Garden and Mrs Noah's Song.
Praise For…
---
"With huge, richly detailed pictures (who knew watercolors could make so many different kinds of brown?) and a lucid and near-poetic text, Morris describes the lives and habitats of eight kinds of bear. . . . She packs an amazing amount of information about bears into the text, and that is supplemented by notes on each animal and a handful of websites listed in the backmatter. . . . It is lovely to see natural history and a sense of eco-awareness combined with many children's most beloved plaything." —Kirkus Reviews
"Children who love bears should relish the
realistic, lush watercolors
in this close-up glimpse of eight different ursines—the moon bear, sun bear, sloth bear, brown bear, spectacled bear, American black bear, giant panda, and polar bear—featured on full spreads accompanied by brief narratives that provide facts about hunting range, habitats, coloration, foods, even predators. The
informational passages are clear, straightforward,
and easy for children to understand." —
School Library Journal
"Supple paintings depict the bears in their natural environments, and the accompanying descriptions are equally lush
: "Through the forest, hunting termites and the honey hives of bees, where the mangoes and the fruit trees grow in plenty, walks the shaggy-coated Sloth Bear." Morris's watercolors beautifully render the subtleties of color and light in the bears' fur. A cozy conclusion and a glossary round out this
educational and handsome
offering." —
Publishers Weekly
"Jackie Morris, acclaimed illustrator of 
The Lost Words
, has created this spectacular gallery of bears to instill a love of wild places and a respect for all creatures." - Cassandra M's Place
"A unique, extraordinary, and unreservedly recommended addition to family, elementary school, and community library Wildlife Picture Book collections." —
Midwest Book Review