Trouble: A memoir (Hardcover)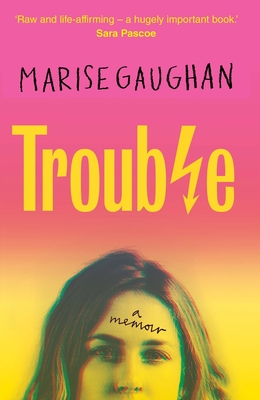 Description
---
A stunning literary memoir from an exceptional Irish writer and comedian

Marise was nine when she first realized there was trouble, 14 when her Dad tried to end it all, and 23 when he finally succeeded.

In a turmoil of conflicting emotions Marise runs - from Dublin to Amsterdam to Los Angeles, leaving a trail of sex and self-destruction in her wake. Until finally, she finds herself facing what she's become in a California psych ward, a girl imploding through trying to make sense of her father's suicide.

As she retells her unravelling, from child to adult, Marise strips back her identity and her relationship with her father, layer by layer, until she starts to understand how to live with him, years after he has gone.

Written beautifully, with wit and unflinching honesty, Marise has produced one of the most profound coming-of-age memoirs of recent years, a stunning new voice in Irish writing.
About the Author
---
Irish writer and comedian Marise Gaughan started her comedy career in the open mic nights of Los Angeles and quickly made waves with her dark and honest style. Now based in London and Dublin, Marise continues to perform in all the major UK clubs, and has supported Rob Delaney, Ari Shaffir and Jim Norton on tour. She also presents a weekly radio segment on Ireland's lyric.fm and has written features for The Irish Times and The Journal.ie as well as online American magazines including Tasteful Rude, Windmill, (mac)ro(mic) and Hobart.

Her debut show Drowning discusses her father's (successful) suicide attempt and her own (unsuccessful one). It premiered at the Dublin Fringe Festival in September 2018 and was awarded the Women's Irish Network Arts Bursary to take it to the Edinburgh Festival Fringe.

marisegaughan.com