Anti-Racism for Kids: A Quick and Simple Guide for Parents to Teach Their Children About Equality, Diversity, Inclusion, and Deal With Preju (Paperback)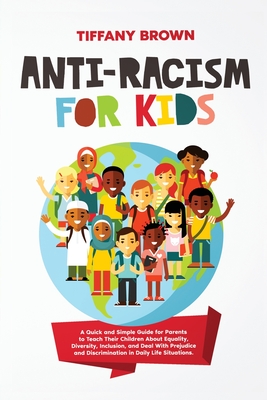 $16.95
Email or call for price.
Description
---
Introduce your children to the concept of racism with this practical guide
Are you looking for the perfect teaching aid to help your kids understand equality, diversity, inclusion, and the harmful effects of racism? Do you want to help protect your kids from discrimination and equip them with the tools they need to deal with racism in everyday life? Then keep reading.
This quick and simple guidebook is ideal for teaching kids of all ages about the vital concepts of prejudice, discrimination, and how they can help achieve racial equality. With an in-depth look at diversity and inclusion, explained in an easy-to-digest way that children will relate to, this book is perfect for parents and educators who want to bring up this important topic in a meaningful way.
Covering the psychology behind racism, the best ways you can bring up racism around your children, and even how you can take steps toward stopping loved ones from exhibiting racist behaviors, inside you'll also discover important ways you can protect your kids from being a victim of racism.
Here's what you'll find inside this practical guide:
- Understanding Racism and What It Really Means
- Real-Life Examples and Demonstrations of Racism In Children
- Breaking Down The Psychology of Racism In a Simple, Easy-To-Understand Way
- Exploring Racism In Schools, In Society, and In The Health Industry
- How You Can Raise Anti-Racist Kids and Teach Them To Combat Racism
- The Best Ways To Deal With a Loved One Who Exhibits Racist Behaviors
- Practical Ways To Protect Your Kids From The Impact of Racism
- And Much More...
Ideal for people of all backgrounds and races, this book explains in simple terms why racism is a damaging force to everyone in society, no matter who you are. Packed with a wealth of advice, as well as tips on how you can bring up your children with anti-racist mindsets, Anti-Racism for Kids offers you a profoundly helpful way of bringing up this essential conversation.