Indian Air Fryer Cookbook for Beginners (Hardcover)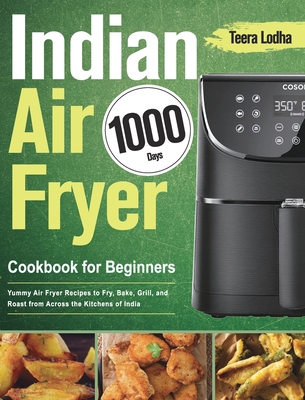 $23.99

Special Order - Subject to Availability
Description
---
Master your air fryer with these delicious Indian recipes
Air Fryers are extremely trendy right now. While regular fryer machines use a lot of oil to cover the food, resulting in a less healthy and more expensive cooking, in an air fryer the crunchy result is graded my hot air that circulates at high-speed producing a crisp layer. While it can be used for every type of flavor, it is particularly suitable for India food. Using an air fryer is a good way to limit up the usage of fried oil and its impact on healthy eating. Air fryer and India cuisine are the perfect match. In this cookbook you will discover a ton of recipes from Indian using an air fryer.
Why air fryer dishes from Indian are incredible?
It's incredible because it has already helped thousands of people to lose weight efficiently.
It's incredible because it represents one of the cheapest family cooking methods.
It's incredible because it's suitable for people in every age and every health condition.
The recipes in this book challenge the opinion that fried and tasty food is unhealthy.
Everything you need to do now is just get one copy of this cookbook and start your Indian cooking with your air fryer right now