Favourite Stories from Fern Hollow (Tales from Fern Hollow) (Hardcover)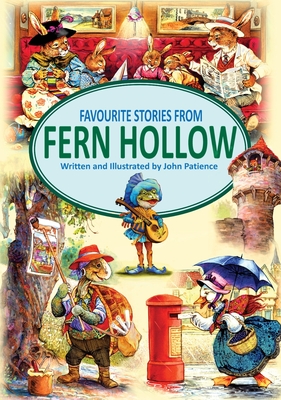 $21.50

Not Available In-Store - Usually Ships from Warehouse in 1-5 Days
Description
---
This book combines what was originally the third series of four stories from the 16 titles in the 1980s classic Tales from Fern Hollow series. These gently humourous stories are written and illustrated by English author/illustrator John Patience, with 64 pages of detailed, colourful and cheerful illustrations depicting the animal characters of the village of Fern Hollow, tucked away somewhere in the countryside of Edwardian England.
As the inhabitants of Fern Hollow go about their daily lives, there are small adventures to enjoy and little mishaps to overcome. Everyone lends a helping hand and there's always a happy ending - and usually a feast for everyone to share in celebration.
Characters in this collection include: Monty Tuttleebee; Tugger Bramble; Farmer & Mrs Bramble; PC Hoppit; Pablo the Tortoise; Granny Bouncer; Pippa Bouncer; Lord Trundle; Mr & Mrs Thimble; PC Hoppit; Mrs Merryweather; Mr Periwinkle; Mr Croaker; Sigmund Swamp; Mrs Willowbank.
The Tortoise Fair: When the Tortoise Fair comes to Fern Hollow it brings fun and excitement for all the village's inhabitants, especially young Monty and Tugger who decide to stow away in the caravan when it leaves.
Mrs Merryweather's Letter: When Mrs Merryweather posts a letter to Mrs Willowbank and Mr Periwinkle the Fern Hollow postman loses it, who knows where the letter will end up? This story will carry you and the letter all around the animal village.
Granny Bouncer's Rescue: The day for the annual seaside trip has arrived and the Fern Hollow animals are all filled with excitement. Granny Bouncer enjoys a trip to the seaside as much as anyone else but she is quietly concentrating on her knitting and, as it turns out, a good thing too
The Midsummer Banquet: Fern Hollow's Midsummer Banquet is set to be extra special because everyone will be dressed in medieval costume. Unfortunately, Lord Trundle somehow manages to get himself trapped in the tower of a ruined castle. Does this mean the Banquet will be called off?
The map on the endpapers helps children find their way around the village and appeared in every single title in the Tales from Fern Hollow series. Children really love the map and enjoy pointing out where all their favourite Fern Hollow Characters live and all the stories take place. Naturally, we have retained the map in this new collection.
These stories of animal folk have an enduring charm. A generation of people who had the Fern Hollow stories read to them as children have now grown up and are buying the books to read with their own children. Parents who read the books with their children back in the 1980s and 1990s are now enjoying them all over again with their grandchildren. Four hardback collections incorporate all 16 of the original storybook titles and The Seasons in Fern Hollow (the forerunner to the Tales from Fern Hollow series) is available in a 40th Anniversary hardback edition