Fear Is the Rider (Paperback)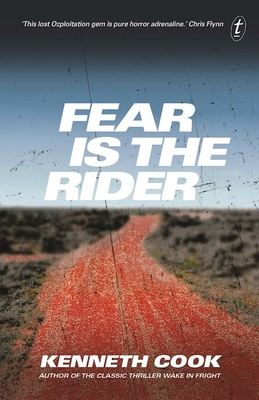 $14.95

Not Available In-Store - Usually Ships from Warehouse in 1-5 Days
Staff Reviews
---
Remember when you stayed up until 3:00am watching a surprisingly great B-movie you never heard of because you just had to see how it ended?... This white hot little thriller by a legendary Australian writer will rekindle memories of that terrific B-movie. A man and a woman are pursued across a parched Dali landscape by an evil force who wants to harm them for reasons they don't understand. It's a classic nightmare, riddled with Jungian symbols, and a great way to spend a lazy Sunday afternoon. — From Stephen's Picks
Description
---
A] fast and precise thriller.--
Kirkus
Short but powerful, Cook takes the reader on an action-packed, tension-filled ride....A page-turner.--BookMooch
A true dark classic of Australian literature.--J. M. Coetzee on Wake in Fright
A kind of outback Lord of the Flies.--Crime Time UK on Wake in Fright
From the author of Wake In Fright comes this chilling short novel that's part Wolf Creek and part Duel.
A young man driving from Sydney to Adelaide for work decides to take a short detour into the desert. He turns his hatchback on to a notoriously dangerous track that bisects uninhabited stone-covered flats. Out there, under the baking sun, people can die within hours.
He's not far along the road when a distraught young woman stumbles from the scrub and flags him down. A journalist from Sydney, she has just escaped the clutches of an inexplicable, terrifying creature.
Now this desert-dwelling creature has her jeep. Her axe. And her scent . . .
Fear Is the Rider is a nail-biting chase into the outback, towards the devil lurking at its centre. Previously unpublished, the manuscript of this 1980s novella was recently discovered among Kenneth Cook's papers.
Wake In Fright was made into a film in 1971, arguably the greatest film ever made in Australia. Lost for many years, the restored film was screened in 2009 at New York's Film Forum and at Cannes, winning rave reviews in the New Yorker and elsewhere. Nick Cave called it the best and most terrifying film about Australia in existence.
About the Author
---
Kenneth Cook's classic novel Wake in Fright was published in 1961 and later made into an acclaimed film. Cook wrote more than twenty books in a variety of genres, and was well known in film circles as a scriptwriter and independent film-maker. He died in 1987, aged fifty-seven. Fear Is the Rider is a previously unpublished manuscript from the early 1980s that was recently rediscovered among his papers.