Michelle (Between the Cracks #3) (Paperback)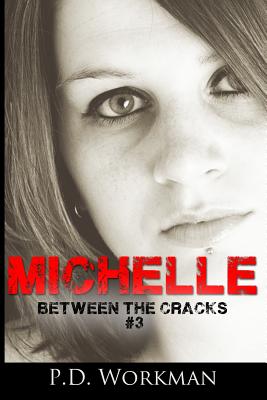 $19.95

Not Available In-Store - Usually Ships from Warehouse in 1-5 Days
Description
---
A heart-breaking story.
Fans of Jodi Picoult and S.E. Hinton will love Michelle, award-winning author P.D. Workman's captivating account of Michelle's thought-provoking and eye-opening story of poverty, abuse and addiction.
"Daddy... can't we come with you when you leave this time?"
When Michelle asked to be taken away from her abusive mother, she never expected to lose everyone she loved in the process. They said they would keep her and Kenny together. Her daddy said he would be back. And she never even got to say good bye to Marcie.
All too soon, they were trying to reunite her with her mother, and Michelle is forced to take to the streets, seeking safety in the gang life.
Michelle is third in the Ruby, Between the Cracks series, a winner of the Top Ten Best Books for Teens 2015.
Praise for Michelle:
Something about P.D. Workman's] writing just blows my mind... I hate when I get too tired to read anymore and I have to wait until the next day.
It's a heart-breaking story.
Praise for Ruby, Between the Cracks:
The Between the Cracks books have been absolutely AMAZING... as soon as I started to read "Ruby", I just had to keep going.
I wish I could forget the book Ruby and read it all over again.
This book is utterly amazing, I find myself having more empathy for children in these types of situations than ever before. My heart seriously yearns for them. I can't put this book down.
Praise for P.D. Workman:
"Every single one of P.D. Workman's] books has spoken to me in ways no one or almost anything else has. And I have found strength in the books I've read."
"The way that P.D. Workman writes just flows amazingly and allows the reader to get really invested in a book."